---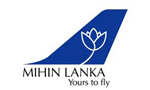 Mihin Lanka, Sri Lanka's national low-cost carrier, recently celebrated its first year of operations in the Seychelles by hosting an awards night and cocktail event for all key agents. At the event, agents were recognized for their performance and support which contributed to Mihin Lanka's success in the Seychelles.

The event was attended by Alain St. Ange – The Seychelles Minister of Tourism and Culture, Rajatha Piyatissa Sri Lanka's High Commissioner in the Seychelles, senior government officials and Mihin Lanka staff. Top performing travel agents from Seychelles were also present at the event.
Mihin Lanka offers the most convenient flight route to the Seychelles which is an extremely popular holiday destination and important trade partner for Sri Lanka. The airline recently increased its flight frequency to the Seychelles and currently operates three flights per week to the destination, every Tuesday, Thursday and Saturday. Mihin Lanka's flights support a strong trade partnership between Sri Lanka and the Seychelles, which has helped boost tourism and economic growth in both countries.