---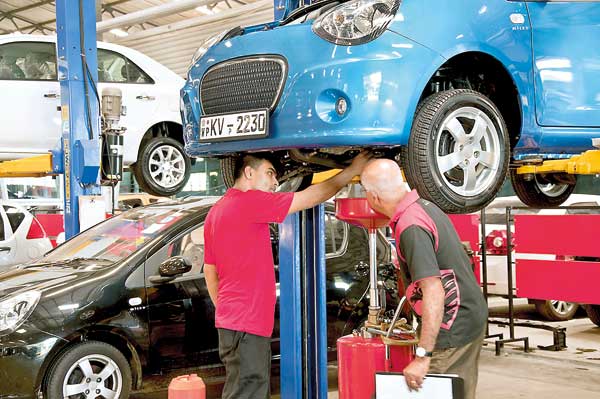 Micro Cars together with Geely International has always been in the forefront in offering special promotions and service benefits to Sri Lankan Geely customers.

Since 2013, Micro Cars conducted many such unparalleled free service campaigns for three consecutive years with the sponsorship of Geely International.
The objective of this service campaign is to further strengthen customer commitment and assurance even after the expiration of the three complimentary services upto 10,000km.This is a gesture of goodwill which Micro and Geely have practised together since the inception of the partnership in 2011.

Free Service Campaigns in 2013 and 2014 provided services for 200 and 1,200 vehicles respectively. Apart from waiving off the labour charges these service campaigns provided all lubricants, Oil filters, Air filters and key spare parts free of charge. Through this service campaign Micro Cars Limited has enabled Sri Lankan Geely clients experience an unparalleled after sales assurance compared with many international competitors in the market.
Continuing its legacy Micro Cars Limited plans to conduct island-wide free service campaigns for 29 days continuously with the aim of providing an unforgettable experience to the valued Geely clients.

Micro Geely's product range consisting of Panda, Panda Cross, MX7-Mark2 and Emgrand7(EC7) will be entertained at the free service campaign which will be held from 3rd to 31st August. Micro Cars Limited urges the Micro Geely clients to register themselves at earliest due to the limited capacity via 0117 844 844.

"There is an increase in the demand for Micro Geely products due to these service campaigns. Therefore, it showcases how we have been able to ensure a higher assurance on the Geely vehicles and offer very high road safety to Sri Lankan public versus other international products in the market through manufacturing the Geely range in Sri Lanka by Micro" said Chief Operating Officer Senani Perera.

This will be a great opportunity to obtain advices on using and maintaining the vehicle while the free service package alone will be worth of approximately Rs.10,000. Geely International together with Micro Cars is sponsoring the service campaign similar to the previous couple of years. This sponsorship is provided as a felicitation for Micro Cars Limited for achieving extraordinary sales figures among 32 countries in which Geely products are sold.

Micro Geely clients are invited to call 0117 844 844 and register the vehicle for this Free Service Campaign.