---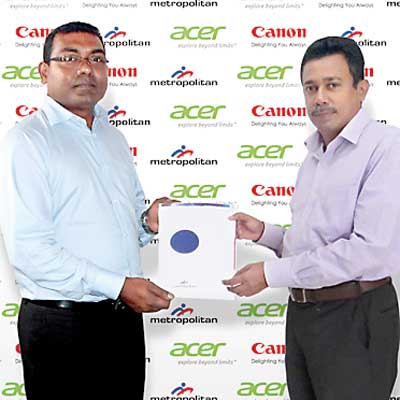 Metropolitan Computers (Pvt) Ltd recently launched a novel distribution strategy with the appointment of key distributors to handle specific geographies across the country.
These key distributors will, in turn, closely liaise with every IT reseller in their respective geographical areas and ensure a steady flow of Acer and Canon products to the market.
Henceforth CellMart (Pvt) Ltd will oversee the Gampaha district while Jantop (Pvt) Ltd will supply the needs of the Kandy District.
Sanjeev Ariarathnam, Director, Metropolitan Computers (Pvt) Ltd said that this was indeed a revolution and the most effective method to ensure a swift and unbroken distribution chain. "In fact Acer laptops, tablets and desktops are among the top three fast moving products in the local market, while Acer projectors come a close fourth. In the Canon range are inkjet printers, laser printers, scanners and cameras".
"We're happy to have taken the lead and launch this distribution chain, thus offering the best products to the Sri Lankan consumer in the shortest possible time. The response from the public has been very favourable and we plan to appoint more distributors to the other districts in the next few months", he added.
"The market out there is massive and with great potential too. We're happy to take on this challenge since it is also a feasible business case for us to invest in", said Nalin Jayakodi, Director of CellMart (Pvt) Ltd, Gampaha.
Located at Bauddhaloka Mawatha, Gampaha and with a staff strength of 74, CellMart (Pvt) Ltd. has been in the cellular distribution industry since year 2003 and currently handles a range of popular brands.
Director of Jantop (Pvt) Ltd, Katugastota Jagath Premakumara said that consumers in their districts no longer needed to come all the way to Colombo for the best range of products and the best possible deals. "It's all available at all re-sellers in our districts too".
Situated at Kurunegala Road in Katugastota, Jantop (Pvt) Ltd has been in the distribution business for the past fifteen years. With a staff strength of 200, it is currently involved in the distribution of a large number of FMCG products from popular manufacturers and mobile phones too.
Active in Sri Lanka for five decades, the Metropolitan Group is one of the foremost business houses in the country and a leader in the technology and workplace solutions sector. It is today, a diversified organisation engaged in different spheres of business activity from imaging, IT, communication, computing to power and energy.