---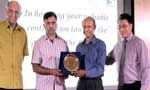 For the past 20 years (1994 -2014), Metropolitan has enriched and enhanced the lives of the people of the central province by providing the most advanced technologies and tools for greater efficiency and productivity in their professional and personal lives.




As we celebrate the 20th anniversary of Metropolitan in Kandy, Metropolitan has further expanded its products and services to capture every part of the lives of our valued consumer. From a workplace solutions company, Metropolitan t oday offers consumer and engineering products and services.
As an engineering company, Metropolitan has partnered with the world's top brands in air conditioning, lighting, power generation, networking, communications and information technology.


"There are many companies that have changed, closed and shifted in the last twenty years. But Metropolitan has remained constant and grown bigger to offer our central province customer products and services be it personal, workplace, industrial or other as a single solutions provider for all corporate and government requirements," said Ivor Maharoof, Managing Director of Metropolitan.


Working with global brands such as Canon, Mitsubishi, Acer, York, Novell, Pramac, Johnsons Controls, Metropolitan has been a preferred partner for many mega projects of both t he government and the corporate world.With an island-wide branch network, Metropolitan has been a leader in the workplace solutions, engineering, communication and IT sectors over the last 55 years across Sri Lanka.

Active in Sri Lanka for five decades, t he Metropolitan Group is one of the foremost business houses in the country and a leader in the technology and workplace solutions sector. It is today, a diversified organization engaged in different spheres of business activity from Imaging, IT, Communication, Computing to Power and Energy.