---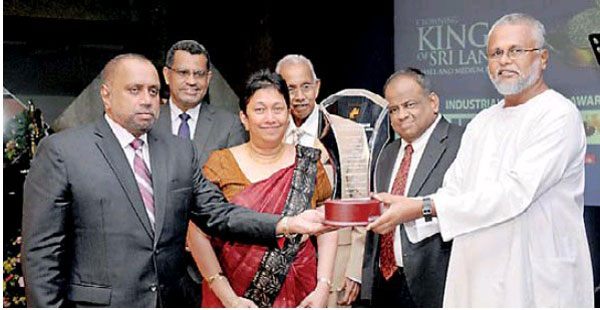 Macbertan (Pvt.) Ltd, the island's pioneer in the manufacture of expanded polyethylene foam products, clinched the only Platinum accolade out of 500 applicants at Industrial Excellence Awards 2014 for its valuable contribution to the national economy.

Macbertan ( Pvt.) Ltd is a strategic collaboration between McLarens Holdings Limited and Alliance Finance Co. PLC, two renowned commercial establishments in Sri Lanka.The company has been in the business of manufacturing polyethylene foam products and air bubble sheets under the brand names of McFoam, McFoil, McFoil Ultra and McWrap since 1997.Macbertan was conferred the Platinum award by t he eminent panel of j udges comprising of leading personalities, academics and professionals representing the Board of Investment (BoI), University of Moratuwa, Sri Lanka Export Development Board, and Industry and Commerce Ministry.

The Platinum award was received by the company's Chairman Rohan De Silva and Managing Director Ramani Ponnambalam at the awards ceremony held at Water's Edge, recently. Macbertan is the first plastic processing company in Sri Lanka to be awarded the ISO 14001:2004 certification for environment management systems. The facility has also been certified for ISO 9001: 2008 – Quality Management Systems, and OHSAS 18001: 2007 – Occupational Health and Safety Management Systems and Energy Management System ISO 50001. "We were selected winners after the judges visited our manufacturing facility in Ja Ela. Winning this award is a landmark achievement in the company's history," Ponnambalam said."Over the past 18 years, we have been able to establish the McFoil brand as a generic name in the heat insulation category and today it's a market leader in this category in Sri Lanka," Ponnambalam said.

The Industrial Excellence Awards of the Chamber of Small and Medium Industries was held for the eighth consecutive year. The award scheme aims to encourage, promote and recognize exemplary performers in the small and medium industries sector often regarded as the backbone of the economy and a driver of regional development.The awards take into account performance in effective management, exports and indirect exports, local sales, financials, special achievements, national and international recognition and new investments and innovations in selecting winners.