---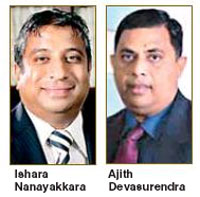 Ishara Nananayakkara led LOLC group plans to consolidate control in Brown & Company PLC (BRWN) through the acquisition of the balance 50 percent in the holding company of BRWN in a 1.3 billion deal, a stock exchange disclosure said.

Accordingly, LOLC Investments Limited, a fully-owned subsidiary of Lanka Orix Leasing PLC (LOLC) has entered into a share purchase agreement with Ajith Devasurendra, the Deputy Chairman who holds 50 percent stake in Diriya Investments, the ultimate holding company of BRWN.

Diriya Investments, an investment holdings company, was initially formed by Ishara Nanayakkara, Ajith Devasurendra and Shankar Somasundaram trio. LOLC subsidiary Commerical Leasing & Finance which held 50 percent stake in Diriya divested holding to LOLC in 2Q12.

BRWN, the holding company of Browns Group of Companies has been a subsidiary of LOLC .Through its subsidiaries Engineering Services (Pvt) n Ltd, Mason's Mixture Ltd, Mutugala Estates (Pvt) Ltd and Pathregalla Estates (Pvt) Ltd, Diriya Investments Limited controls 49.8% of Brown & Company PLC. LOLC has an existing direct holding of 4.7 percent in BRWN. As at March 31, 2012, Ajith Devasurendra held 1.55 percent in BRWN personally.

"The terms and conditions of the transaction requires LOLC Investments Ltd to make an initial payment of Rs.660 million to the seller with a further period of one year to settle the rest of the consideration.

Law firm, Nithya Partners will function as the Escrow Agents to the above transaction," the disclosure said.

According to LOLC, this strategic acquisition will create a strong platform for the LOLC Group to maximize the potential for growth with strong synergies available in the two groups of companies, and function as an even stronger conglomerate.

BRWN which has been in operation for 135 years, is a diversified conglomerate with operations in several key industry sectors including Investments, Plantation & Agriculture, Power Generation, Marine & Manufacturing, Home & Office solutions, Environment & Pharma as well as Travel & Leisure.

The Browns group holds several leading l ocal and global brands including: Exide Batteries, Tafe, Sifang, Massey Ferguson, Austrian Airlines, BG, Continental Airlines, Eclipse, Intervet, Oce, Olympus, Sharp, Eukanuba, Zagro, Yanmar Marine Engines, Ashok Leyland Marine, Pitney Bowes, Scandinavian Airlines, Makita, Maktec, F. G. Wilson, Yamasha, Daelim Royal Boiler Co, and MFG.

In a recent rating report, BICRA, an associate member of Moody's assigned LOLC at A-/stable. It also said that the group will raise funds from foreign partners to minimize the mismatch between its assets and liabilities caused by the use of short-term funding for long-term investments. The rating agency added that the group is unlikely to go for further acquisitions in the near future.