---
Land Rover, the iconic British motoring brand, recently partnered with Quintessentially Lifestyle, an equally renowned British members' club.Quintessentially Lifestyle is now the world's leading luxury lifestyle group, offering an award-winning global concierge service and lifestyle management assistance. Through Quintessentially Lifestyle, Land Rover customers will be provided with the best lifestyle and travel experiences through a bouquet of exclusively designed services.

The partnership between Land Rover and Quintessentially Lifestyle was announced at a signing ceremony that was held at the Land Rover showroom and attended by the senior management of both companies.Quintessentially Lifestyle was founded in the UK, with hub offices in over 65 cities around the world, including its main hubs Dubai, Hong Kong and New York. Through Quintessentially Lifestyle, Land Rover customers have access to an extensive collection of lifestyle services that deliver convenience and recognition.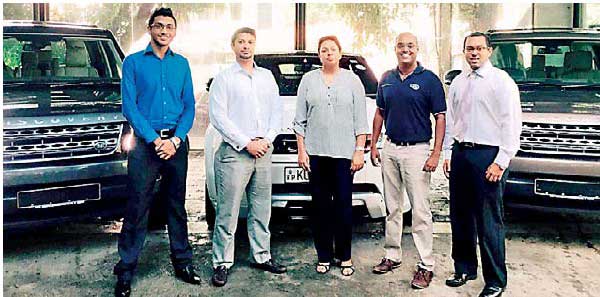 Commenting on the partnership, SML Frontier Automotive Managing Director Sheran Fernando stated, "It is an integral part of our business strategy to ensure that our customers benefit from an array of services that complement the Land Rover lifestyle. The Land Rover is a high-end vehicle and through this concierge service, we will be able to provide all Land Rover owners with access to high-end services, benefits and events."

The two iconic brands have come together to revolutionize the way customers will be serviced in Sri Lanka. Land Rover customers will now have access to an unrivalled package of exclusive privileges, preferential rates and priority services including VIP access, travel facilitation, accommodation, restaurant reservations, home management, relocation, educational consultancy and a host of other services.

This partnership will also allow Land Rover customers to enjoy a level of personalized service that they have never experienced before.Quintessentially Lifestyle Director Niro Cooke further added, "Having entered the market only one year ago, Quintessentially Lifestyle is proud to partner with Land Rover, in a partnership of this magnitude. We are confident that we can provide all Land Rover customers with greater access to high-quality services, which will enhance their lifestyles and enable them to experience new levels of luxury and discovery."Land Rover is a leading British automotive brand that is designed, engineered and manufactured in the United Kingdom. Since 1948, Land Rover has been manufacturing authentic 4x4s that define the 'breadth of capability' in their segments.