---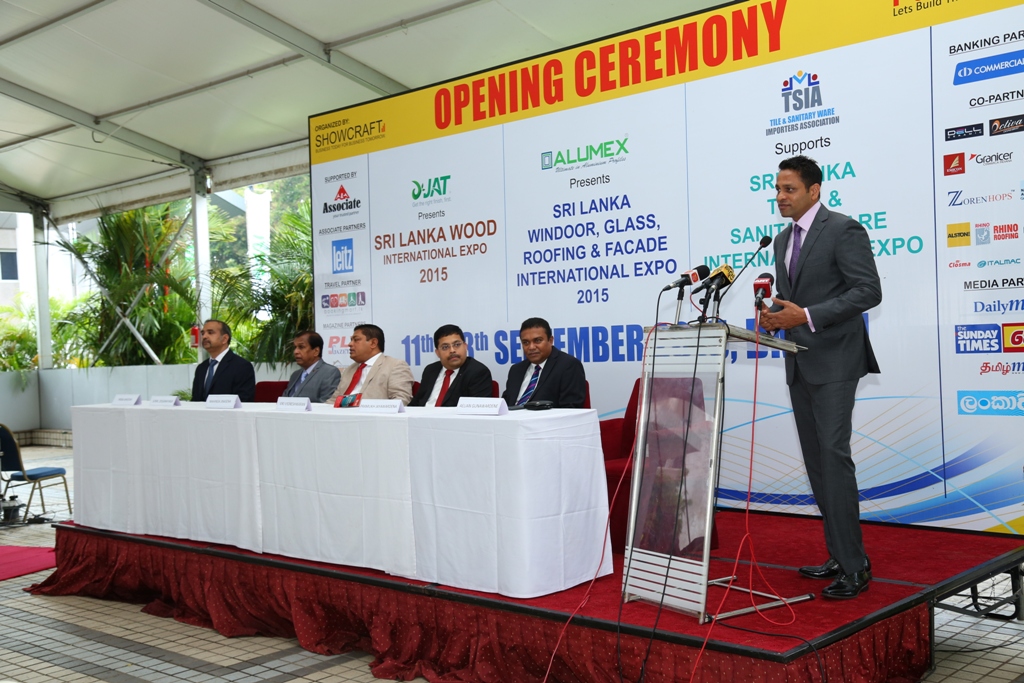 Mr. Aelian Gunawardene, Managing Director, JAT Holdings (Pvt) Ltd addressing the audience at the opening ceremony of the Wood Int. Expo 2015

With the motive of pushing the domestic wood industry to greater heights, JAT Holdings, the leading furnishing and finishing company recently concluded the three-day annual trade show 'Sri Lanka Wood International Exhibition 2015' which drew tens of thousands of visitors from across the country.

The expo was attended by furniture and hardware manufacturers, carpenters, plywood and particle board manufacturers, traders, timber importers and merchants, architects, saw millers, interior decorators amongst many others including the general public. It exhibited the latest technology and techniques available in wood industry and using them in application to meet the global standards in delivering high quality products in less time, and went onto showcase wood working machinery used from various purposes from cutting down the wood to final finished product.

Aelian Gunawardene, Managing Director, JAT Holdings (Pvt) Ltd, said 'We are very delighted to be the title partner of Sri Lanka Wood International Exhibition 2015 which has evolved onto becoming the platform for the wood industry bringing together numerous innovations and technologies from all over the world to help improve the technical knowledge and bring new suppliers and potential customers to the Sri Lankan market.'

'Continuing our success journey we have reached our present position of being the undisputed leader in the wood coating industry in Sri Lanka.

This goes onto reflect the company's deep respect for the role that the exhibition plays in inspiring companies and bringing the industry together,' he added.

The expo also offered free training and workshops with live demonstrations of wood working machinery and tools especially for the wood industry which was a further initiative organized by JAT Holdings. This gave the visitors an exceptional experience of comparing and making the best buy out of various options available at the exhibition.

It was also a place to assess, learn, interact, and develop new business contacts, explore further prospects for business expansion, learn about the latest trends and technologies, and much more.

JAT Holdings boasts an impressive portfolio of products across a wide range of leading international brands including SAYERLACK wood coatings of Italy, Herman Miller office solutions of US, Crown and Permoglaze decorative interior and exterior wall paints of UK, Borma Wachs maintenance range of Italy, Norton Abrasives (Saint Gobain) of France and Brush Master Paint brushes. The company believes in a philosophy of teamwork and corporate citizenship, reflected in its commitment to perfection and its zero tolerance of errors and accidents, as well as its investment in providing international exposure and training to its technicians.