---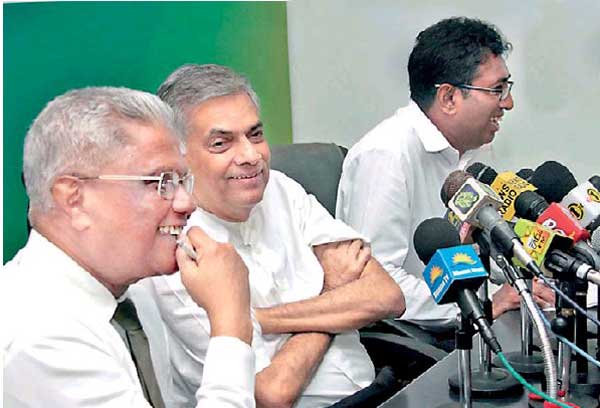 FROM LEFT: TOURISM SECTOR STAKEHOLDER AND FORMER TOURIST BOARD CHAIRMAN PADDY WITHANE, OPPOSITION LEADER RANIL WICKRAMASINGHE AND MP HARSHA DE SILVA PIC BY PRADEEP DILRUCKSHANA
A group of tourism and travel industry stakeholders yesterday called for a separate ministry for tourism instead of keeping it under the purview of Economic Development Ministry, when they met opposition leader Ranil Wickramasinghe.The meeting was held to enlighten travel and tourism sector stakeholders about the economic policies of the common opposition in the run up to the presidential election.

The stakeholders also called for the setting up of provincial tourism authorities and also to introduce transparency in state purchases, when it comes to airline ticketing.Responding to a question raised in connection to the Mattala Airport, Wickremesinghe said it would be put to better economic use and a new airport would be constructed in the East instead."This new airport would be set up in a strategic location where North Central Province, North and the East could benefit from," he noted.

Further, he said a program to attract high-end tourists would be introduced by the new government. He said this would be a long term initiative targeting to turn Sri Lanka into a major tourist hub by 2025.Wickremesinghe noted that Sri Lanka has failed to attract high spending tourists at present. "The sector should not focus on quantity but the quality of thetourists coming into the country. Landing costs too has to be reduced"."We will make tourism a level playing field where every one would have equal opportunities," he added.