---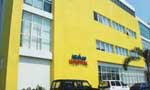 Hemas Hospitals-Wattala has acquired a Stryker 1288 HD laparoscopic system to upgrade its healthcare facilities on orthopedic surgeries recently.
With this new facility in place, Hemas Hopsital-Wattala is very much at its brand promise of "Expert care, close at hand" to provide best quality healthcare facilities to its customers.

"Orthopedic surgery" or "Orthopedics" is the specialty in medicine that deals with conditions related to musculoskeletal system, and "Arthroscopy" is a sub-division within orthopedics that focuses on diagnostic and therapeutic procedures carried out on joints using a camera with a flexible scope. This minimally invasive procedure is commonly used on knees and shoulders bringing relief as well as the ability for patients to get back to normal routine within a short time.

Dr. Samanthi de Silva, General Manager & Head of Medical Services, Hemas Hospitals-Wattala, said "The high definition laparoscopic system will help us strengthen arthroscopic surgeries carried out in the hospital. These surgeries are minimally invasive and are highly effective as against open surgeries due to less damage it causes to the tissues. This, therefore, reduces the trauma of the patient drastically during and after the surgery. Patients undergoing arthroscopic surgeries can quickly recover and get back to their normal activities."

Hemas Hospitals-Wattala is complimented with an eminent panel of orthopedic surgeons available round the clock, well trained team of nurses and a complete physiotherapy department to complete its services in orthopedics. Advanced radiology imaging unit within the hospital helps clinicians with accurate diagnosis needed for proper treatment verification. Further, the free walk-in clinics introduced by the hospital for patients with joint paints can, now, obtain services of its well-trained medical officers on week days from 9a.m-3p.m.
Hemas Hospitals partnered with Zodiac Medicals, a leading orthopedic appliance provider in Sri Lanka, to obtain necessary equipment needed for arthroscopy to ensure seamless service to its customers. Hemas Hospitals is a subsidiary of Hemas Holdings, one of Sri Lanka's leading conglomerates with a focus on 4 key sectors including FMCG, healthcare, transportation and leisure