---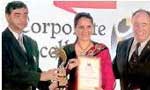 Marketing professional Fiona Juriansz Munasinghe of Hemas Manufacturing Pvt Ltd has been awarded the "Brand Leadership Award" by the Chief Marketing Officer (CMO) Council.
This accolade was presented at the 2014 Global Marketing Excellence Awards of the World Marketing Congress at Taj Land's End, Mumbai recently. Fiona Munasinghe was the only Sri Lankan to win an award in this category at this awards ceremony.

The World Marketing congress is an annual event where marketers from around the globe are rewarded for their achievements. Recipients are selected by an experienced and prestigious panel of judges after many rounds of evaluation which asses their leadership in achieving marketing excellence, brand building abilities and outstanding contribution to mentor marketing professionals. Candidates from more than 50 countries around the world were considered under many award categories at this award ceremony.

Fiona Munasinghe holds a Business Management degree from the University of Manchester and a Masters degree from the Postgraduate Institute of Management. She is also a Chartered Marketer and holds a Post Graduate Diploma in Marketing from the Chartered Institute of Marketing (CIM), United Kingdom. Further, she is a Certified Professional Marketer (CPM) from The Asia Marketing Federation (AMF), Singapore and a graduate and Member of Chartered Management Accountants (CMA), Australia. As the Marketing Manager of Hemas Consumer Brands of Hemas Group, she is in charge of the three biggest categories in which Hemas operates: laundry, personal wash and oral care brand custodian of Diva, the second biggest laundry powder brand in Sri
Lanka, Clogard, the second largest oral care brand and Velvet, the biggestbeauty soap brand in Sri Lanka.