---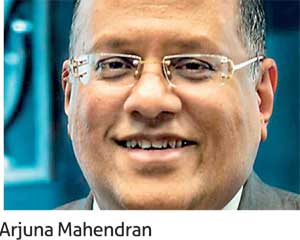 The newly appointed Central Bank Governor Arjuna Mahendran said the country's larger corporates must turn to bond markets instead of resorting to easy bank credit for their liquidity needs.

He said he was extremely concerned of the practice of even blue chip companies turning to banks to fund some of their larger projects when a local bond market is available.

"I am extremely concerned when I see some of these big developments commenced in recent times going for straight forward bank funding, for instance, casino related (integrated) resorts," Mahendran said addressing the recent Sri Lanka Sovereign and Banking Forum 2015 organized by Fitch Ratings.

He said a local bank had also approached him recently requesting to extend the single borrower limit which will enable them to fund the resort project.

"The other day, I got a request from a bank to extend the single borrower limits so that it could fund these resorts. I said 'no' because it is ridiculous because we have bond markets here," he remarked.

Even under a historically low interest rate environment, Sri Lanka's private credit grew by just under 9 percent in 2014.

The rate at which the banks lend to their prime customers, Average Weighted Prime Rate (AWPR) declined by 15 basis points to 6.47 percent during the week ended February 27. This rate was 9.29 percent a year ago.

The total market liquidity currently stands at Rs.287 billion.

Governor further observed, "We have blue chip companies who are going to banks for their funding needs when there is a bond market and they can easily tap these markets for their liquidity".

The premier blue chip John Keells Holdings PLC is currently facing delays in raising US $ 450 million (approximately Rs.60 billion) via a loan syndication facilitated by the Standard Chartered Bank to partly finance its US $ 650 million integrated resort, due to new government's decision to prohibit gaming and to withdraw tax concessions on such businesses.

"So I think there is a big education process ahead for us on the benefits of funding from the markets. Obviously it is cheaper, it is more reliable and you know it creates liquidity and obviously some of our corporate titans have not learned the lessons as yet," Mahendran further added.

However, some say corporates could raise cheaper funds from banks than bond markets.