---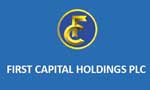 First Capital Holdings PLC subsidiary First Capital Treasuries Limited has been granted approval by the Colombo Stock Exchange to list debentures worth Rs.500 million.




Its sister company First Capital Limited will be managing the issue, while S S P Corporate Services (Private) Limited will be acting as registrars. First Capital Treasuries is one of the primary dealers in government securities, appointed by the Central Bank. For the financial year ending March 2014, the company posted a net profit of Rs. 517.94 million, down from Rs.533.81 million for the previous year (yoy). It had an income of Rs.1.42 billion, up from Rs.1.27 billion yoy, while direct expenses increased to Rs.908.6 million from Rs.738.67 million yoy.


Despite gains from fair valuations of investments propping the books by a further Rs. 71.58 million, personnel and other operating expenses increased to Rs.107.63 million from Rs. 22.25 million yoy.Assets of the company were valued at Rs.12.55 billion while equity was worth Rs.1.33 billion.