---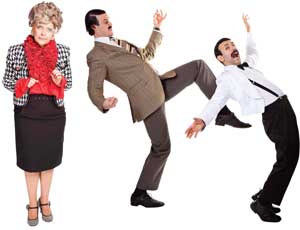 This internationally successful homage to the BBC's most popular sitcom returns to Mount Lavinia Hotel with Dialog being the platinum sponsor, following a sold-out debut season last year. It arrives slap bang in the middle of a 20-country tour which this year also debuts in Malaysia and Iceland. Add to that performances at the UK's Royal Albert Hall, Sydney Opera House, all the major arts festivals, and an ongoing residency in London's West End, and you'll see why this return to Sri Lanka is most welcome indeed.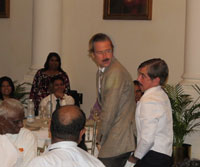 With Basil, Sybil and Manuel on hand and only a third of the show scripted, anything can happen as audiences take a seat in the 'Fawlty Towers' restaurant… On the menu: all the best gags, shambolic service, and a '70s style 3-course meal in 'a hilarious battle of wits, patience, fire extinguishers and fine food' (Australian Traveller, Sydney Opera House 2013). This is fully immersive, site-specific comedy theatre at its best – just don't mention the war! Internationally acclaimed by audiences and critics alike.

- 'uproariously funny' (Rip It Up, Adelaide Fringe 2014)
- 'food snortingly funny' (Australian Stage, FringeWorld Perth 2014)
- 'the most exciting, pacy and disciplined piece of improv theatre to be seen… outstanding!'
(FringeReview, Edinburgh Fringe 2013)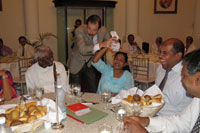 Born in Brisbane in 1997, Faulty Towers The Dining Experience is now performed around the world pretty much non-stop. At the same time, it maintains a residency in the heart of London's West End theatre land. The cast for Sri Lanka features: Karen Hamilton as Sybil, Jordan Edmeades as Basil, and Geoffrey Reczek as Manuel. Cast bios are on the Actors page at www.interactivetheatre.com.au

'had us in stitches!' (BBC Radio Five Live, UK tour 2013)
'rip-roaringly hilarious' (This Is London)
'deliciously entertaining… not to be missed' (What's on London)
'a two-hour eat, drink and laugh sensation' (Daily Telegraph, UK)
____________________________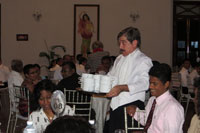 EXPERIENCE THE EXPERIENCE!

Venue: Mount Lavinia Hotel, 100 Hotel Road, Mount Lavinia, Sri Lanka
Dates: 4th June to 8th June (Dinner Shows) and 02 Matinee Shows on 7th June (Saturday) and 8th June (Sunday)

Performances:
Two matinée performances, Sat-Sun: lunch from 12 noon; show starts at 12:30pm.
Five dinner performances, Wed-Sun: dinner from 7pm; show starts at 7:30pm.
Tickets – Rs. 5900/= all tickets include a 3-course meal and 2-hour interactive show.
Bookings via Mount Lavinia Hotel only: for reservations please call +94 112 711430 / 446