---

World renowned digital marketing guru Dr. David Chaffey put across the finer points of the subject to leading businesses and individuals in the country at the inaugural Sri Lanka Digital Marketing Conference organized by the Synergy School of Marketing London & Colombo, recently.

Dinesh Yogaratnam, Marketing Manager of Nations Trust Bank PLC, kicking off the proceedings, highlighted the problems in digital marketing, which is still in transition in the country. He said "managers are not focusing on their target audience and trying to spread into all audiences. They should also give more importance to digital marketing."

Dr. Sarath Amunugama, Deputy Minister of Finance and Planning; who lit a digital oil lamp using a remote mouse, said "digital marketing is the wave of the future. Not just businesses are interested in digital marketing, politicians want to put across their ideas too. It applies to politicians, consumers and industries."



CURRENT TRENDS

Dr. Chaffey said according to research, most businesses in Sri Lanka spend less than 10 percent of their marketing budget on digital marketing, while most parties in attendance at the seminar indicated they spend around 25 percent on it.

"Marketing Week magazine published that digital marketing would encompass 75 percent of the marketing budget of UK firms within 5 years," Dr. Chaffey noted.

"However, I am skeptical about those figures. Traditional methods will stimulate customers to interact digitally," he further added.

The most effective forms of digital marketing this year have been content marketing, conversion rate optimization, mobile marketing, search marketing (search engine optimization and pay per click), social media marketing, and marketing automation.

However, according to him, most entities do not lead, but follow.

"Most companies just follow trends that competitors set, such as buying likes on facebook and doing viral campaigns. The Selfie is just a temporary phenomenon. Viral is not the way to go. Companies should aim for a sustained exposure campaign and must look towards a long lasting digital marketing plan."

As such, planning, and RACE-ing; Reach, Act, Convert and Engage, should be done to successfully carry out a digital marketing campaign.



TABULARASA

Many organizations have a digital marketing plan; either integrated or separate from their overall marketing plan. However, if the company does not have an optimized or a very well defined digital marketing criteria, Dr. Chaffey expressed a need to start with a blank slate.

This offers a business the luxury of a tailormade plan to fit their business. Different types of businesses such as transactional sites, relationship-building sites, consumer brands, media sites & publishers and start-ups have various different needs.

A maturity model should be adopted to evaluate and implement actions depending on the level of digital marketing in the organization from the initial level to managed, defined, quantified and optimized levels.

A road map should be created not just into months, but years, while the senior managers need to be involved in distributing the available resources beyond the IT department, so that the whole organization benefits.

"The devil is in the details," Dr. Chaffey said, in planning for a long term digital investment.

He said the SOSTAC planning framework (Situational analysis, Objectives, Strategy, Tactics, Action and Control), invented by P.R. Smith should be carried out quarterly, or at the minimum, annually as the digital marketing landscape changes rapidly.

WHAT PATH TO TAKE

Relevant and branded content, which a company can control, should be used to engage users with online value propositions or mobile value propositions.

Dr. Chaffey said "it is important to check what proportion of your audience is on mobile, especially locally. Apps are not necessary for all businesses. In a market like Sri Lanka, it seems better to create a website that works on both mobile and the web."

He showed a few examples of websites, some which were created exclusively for mobiles, some for the desktop, both of which did not resize and adapt properly to the screen sizes, while some were shown that appeared wide on desktop as users preferred, and as a long scrolling page for mobile users.

Online value propositions, such as DIY paint experiences as offered by Duluxe, or online personas for consumers or businessto-business audiences to help them choose what they want were highlighted as effective methods.

REACH

As content is presented in a proper manner, building the audience follows. Most businesses get stuck at this step, ending up being preoccupied with likes, fans, followers and inbound traffic, which are the measures of reach and end up trying to buy such figures from a non target audience.

However, the important facet of reach is to optimize the most effective channels to build the audience.

Traditional paid media, like advertising, display ads, paid searches and search engine optimization still has huge potential in Sri Lanka.

"Local businesses haven't thought of their online footprint to get a better visibility," Dr. Chaffey said.

Keyword search patterns should be considered, as should establishing links to other related website to increase their display position on search engines.

Earned media, such as word of mouth and social media cannot be controlled; however reputation can be managed by responding to negative reviews.

"You must respond to negative responses by customers online. Each coin has two sides. You have the chance to express your side of the story and change their mind."

Dr. Chaffey displayed the Tripadvisor page for the Pinnawala Elephant Orphanage, where positive reviews were appreciated, and negative reviews were left alone, further degrading its reputation.

"Some businesses are not active on social media from the fear of criticism. That's a mistake. People will criticise anyway. Control and respond."

"This is one of the reasons most brands are trying to use owned media instead of earned. They create their own social networks which they can control. But they must be engaging and have recent activity. If not, it's better to stick with facebook."

In creating owned media, he explained that developing personas to suit demographics was one of the most important aspects of engaging the audience.

It is also important to integrate real life personas that are able to sway public opinion.

"Inviting bloggers to write about your brand and getting celebrities to tweet about it can be very powerful," he said.

Once marketed, "Remarketing is one of the best forms of investment," said Dr. Chaffey, explaining the persuasion of first time visitors to return, by showing a different layout on websites, or different banner ads for them using cookies.

INTERACTION

Once reach is expanding, interaction should be focused on to keep the clientele engaged in the content. The hub should appear inspirational and worth visiting.

"Volume is revenue. Clicks and visits should be allocated a legal value for media attribution. The last click rule, to find out which media affected the user's journey and sales should be evaluated," said Dr. Chaffey.

Cause to action clicks should be available, providing information and persuading users to click and interact more with the website or purchase products.

"Limit the choices given to users, because choices limit motivation. Or use a different approach such as DIY or help people choose with online personas."

"Time spent on the website, number of clicks, and other key performance indicators should be monitored using an analytics tool such as Google Analytics, or create your own dashboard," he said.

Such data could be used t o increasing the focus of effort and revenue on specific media channels that generate more visits and revenue.

CONVERSION

From visiting to purchasing a product is just one click away, however it is useful to increase interaction and remarketing, as 50 percent of revenue on a website comes from multiple visits.

Additionally, e-mail campaigns can be done using saved data, similar to remarketing to show similar products to those the user viewed or purchased.

"E-mails to previous customers could increase purchases by as much as 6 per cent"

Furthermore, Dr. Chaffey said that just 0.1 percent of banner ad clicks go through to a purchase.

"Banner ads are not good for driving traffic, but don't ignore them. They are good for forming perceptions."

He also said for MNCs; changing content, words or layout to reflect geographical areas would make users more comfortable with purchasing.

Continuously updating the website or completely redesigning it regularly every few years has also seen an increase of sales.

"Companies should capitalize on marketing, investments, re-marketing, and e-mail automation to ensure relevance at buyer stage and drive repeat sale," said Dr. Chaffey.

ENGAGE

Once customers have purchased your products, they should not just repeat purchase but also refer the products to other potential clientele.

They should share their experiences on owned or earned media, to create social proof.

"There needs to be a buzz, created by thrilled customers. Word of mouth is one of the most powerful forms of persuasion," Dr. Chaffey said.

Customer experience management should be done, using tools such as feedback and suggestions to determine their level of satisfaction, and convert it into their level of e-loyalty to ascertain who will become repeat customers.

Dr. Chaffey ended his lecture, saying digital marketing needs a firm commitment.

"If someone said digital marketing is cheap, free and easy, that person is lying. Companies must set up proper teams for it. Digital marketing also requires T- Shaped Marketers, who have knowledge of all aspects of business, and have been educated deeply on the skills that really

matter."

WHAT ARE WE DOING

A few sponsors revealed their digital marketing techniques with Daily Mirror Digital Marketing Manager Umair Wolid explaining that no money is being spent on its digital marketing campaign, reaching 178,000 likes on facebook organically, by revolutionizing the way news is presented on the social network.

Its picture with a caption on facebook, now followed by its competitors, prompts readers to like and share among friends and links to the attractive Daily Mirror website, increasing the presence of both its facebook and web pages.

TNL Radio Networks Pvt Ltd meanwhile has adopted a viral marketing strategy. They have been creating videos using their radio personalities in several web series. While some had failed, they had continued several, with the most famous being the ICC Cricket World Cup 2012 papare dancing video which went viral once more during the ICC T20 World Championships 2014.

"Jab, jab, punch" is the motto of Kapruka. com founder Dulith Herath, who adopted the tactic from boxing. He sets up small "jabs", such as the viral mother's day video, before a hard hitting "punch" like the gifting of 2 hybrid cars to the best performing employees. This has created an immense awareness for Kapruka among the public.

NOTHING LASTS FOREVER

As the day long proceedings at the Balmoral Ballroom in the Kingsbury drew to a close, the Daily Mirror Digital Marketing Team and TNL Radio Networks Pvt Ltd were awarded trophies for unparalleled excellence in Sri Lankan digital marketing.

"We did not expect so many people to be interested in our programme. Next time we'll have more tables to accommodate all of those we had to say no to," said Director of Synergy School of Marketing Mohammad Adamally in his closing remarks.

Dr. Chaffey, co-founder and chairman of smartinsights.com, is the author of 5 books on digital marketing which are recommended by the Chartered Institute of Marketing as source material for students and lecturers and has worked extensively with top global corporations as well as countries in the region including Dubai and Singapore.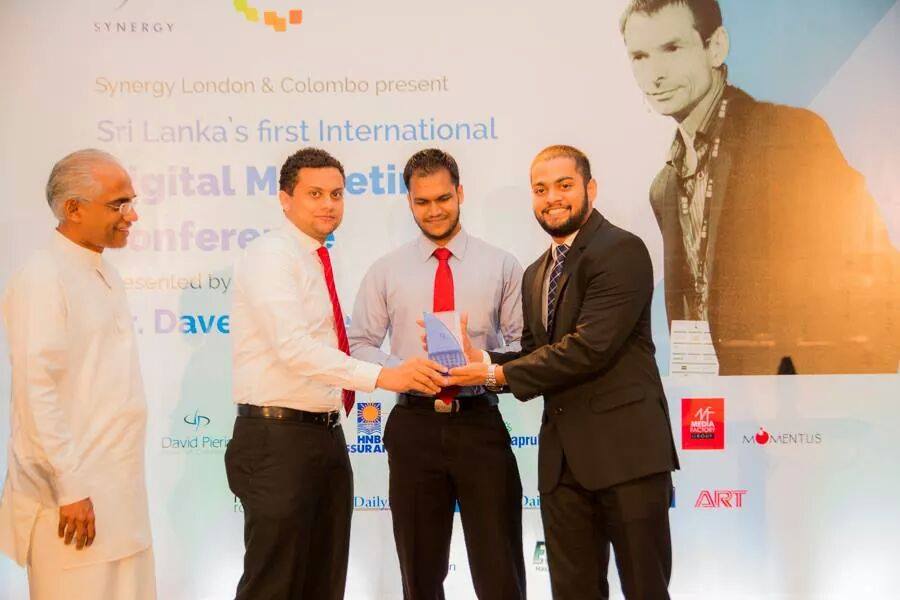 UMAIR WOLID AND GEHAN BLOK OF DAILY MIRROR DIGITAL MEDIA TEAM ACCEPTING THE DIGITAL MEDIA EXCELLENCE AWARD FROM ERAN WICKRAMARATNE AT SRI LANKA'S FIRST EVER INTERNATIONAL DIGITAL MARKETING CONFERENCE, ORGANIZED BY THE SYNERGY SCHOOL OF MARKETING.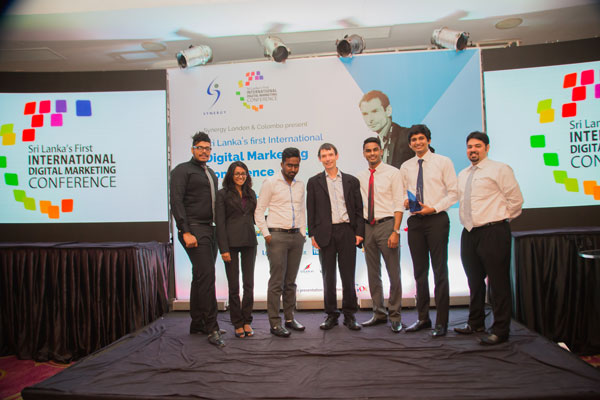 Danu Innasithamby, Buddheesha Pahathkumbura, Sumuditha Krishantha, Dilshan Micheals, Dino Corera & Kim Martenstyn representing programming, new media & sales from TNL Radio Network accepting the award for 'Digital Marketing Excellence' presented by Dr. Dave Chaffey (pictured center) and Synergy School of Marketing - London, at the first ever Digital Marketing Conference in Sri lanka.