---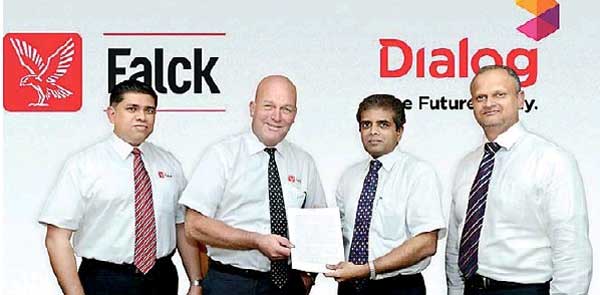 With the objective of providing high quality emergency medical care to the entire Western Province by March 2015, Falck recently entered into a strategic partnership with Sri Lanka's premier telecommunication service provider, Dialog Axiata. Falck, the world's leading Emergency Medical Services (EMS) provider and Dialog are able to integrate Falck membership plans to all Dialog subscribers.


"Our objective for Sri Lanka is to offer high quality emergency care to all communities to ensure a reduction in preventable death and disability. A crucial step towards achieving this is identifying a suitable medium that is capable of quickly and efficiently carrying the message across to a large group. As a country with high mobile penetration, and Dialog being the largest mobile operator, this partnership is a necessary step in revolutionising the local healthcare system." said Jens Poul Madsen, Chief Executive Officer, Falck Sri Lanka.


With the introduction of mobile membership plans, customers no longer need to visit Falck stations to register, saving time and improving on convenience. Membership registration is quick and simple, type 'REG [space] NIC or passport number' and SMS it to 1990 from any Dialog mobile, which comes with a special discount for services. Dialog users can register multiple members from a single mobile number, extending the family package facility. Members will be charged Rs 1 a day, per member which is automatically added to the monthly bill for post-paid customers or deducted from the credit balance for pre-paid customers, entitling them access to all Falck's services. Furthermore, children of existing members under the age of 16 years are automatically entitled to Falck membership rates when using services.


Jens further noted, Dialog has the advantage of being able to reach across to millions of Sri Lankans representing an unprecedented opportunity for Falck in extending services to the whole of Sri Lanka progressively.


"Dialog is privileged to partner Falck – a world acclaimed emergency healthcare service provider, in transforming a life enhancing service such as emergency health care in to a product proposition which is affordable and available to a vast majority of Sri Lankan citizens. Dialog has been consistent in its thrust to harness advanced mobile technologies towards driving inclusion agendas across multiple sectors. The Falck-Dialog emergency assistance product joins a growing suite of innovations focussed on digital inclusion, principal among which are Dialog's micro-insurance, education, information and entertainment services which are billed on a per-day basis, with a view to maximising affordability and availability across a broad spectrum of socio-economic segments." said Dialog Axiata PLC Group Chief Executive, Dr. Hans Wijayasuriya on the occasion of launching the Falck-Dialog partnership.


Falck offers EMS, ambulance services and much recently introduced the concept of 24 hour clinic and pharmacy in Sri Lanka. Falck's extended services include; emergency ambulance response, patient transport, urgent or scheduled Doctor visits to home and office, first aid training, laboratory services, air medical evacuation and the 24 hour medical clinic with access to a GP and Pharmacy. Falck currently operates through four stations based in Ratmalana, Nawala, Wattala and Negombo providing its services to greater Colombo within 15 minutes of receiving an emergency call.



Based in Copenhagen, Denmark, Falck has a history spanning over 100 years in providing EMS and currently operates in over 45 countries with a fleet of over 2,000 ambulances responding to over 2 million calls a year. Falck began their operations in Sri Lanka in 2013, offering international standard First Aid training in pre-hospital medical care. Falck can be contacted for any medical emergency from a landline or mobile on their 24 hour hotline, 1990.