---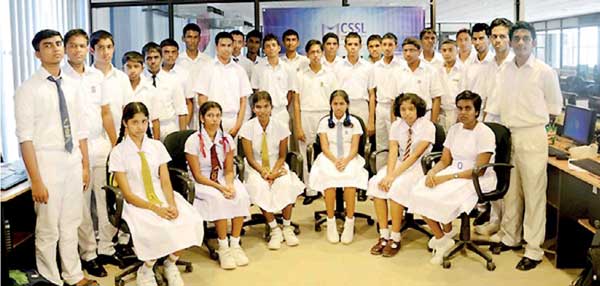 The National Schools Software Competition (NSSC) –2014 conducted by the Computer Society of Sri Lanka (CSSL) for the 25th consecutive time,encompassing both national and international schools in the country's nine provinces, has received a tremendous response islandwide.The ceremony to present awards and prizes to the winners of this key event will be held in January 2015, the Computer Society of Sri Lanka announced. This national competition was organized by the Computer Society of Sri Lanka in collaboration with the Ministry of Education and the University of Colombo School of Computing (UCSC).

The CSSL first launched the National Schools Software Competition in 1990. Since then, this annual event has been conducted consecutively for the past two and half decades. The key objectives of this competition are to sharpen talents and develop innovation and creativity amongst students in the Information and Communication Technology (ICT) sphere, to honor and reward their singular achievements at national and international level and generate keen interest and enthusiasm amongst students pursuing their secondary education, who are the future of the nation.

The competition is open to students of two different age groups–those under 17 years old and under 19 years old, respectively. Applications were called from students within these two specified age categories in national and international schools in the nine provinces. The response was overwhelming with an incredibly heavy volume of applications submitted for the annual national event. The competition comprises two phases – the first round and final round. Under the first stage, students have to answer a question paper in a written examination conducted for the participants on a province to province basis.
The second part, known as the "final round" is an online examination, where students have to develop innovative software solutions. Both written and online examinations are conducted under the supervision of Dr. Lakshman Jayaratne and Dr. Prasad Wimalaratne of the University of Colombo School of Computing. Dr. Ajantha Athukorala, CSSL's Advisor on Students' Affairs, is overall in charge of the project.

In the final round, the three students who excel all-round are selected for t he awarding of t he coveted National Schools ICT Championships Award at the national awards presentation ceremony in January-2015. Six students in the Under 19 age group who secure the highest marks are selected to represent Sri Lanka at the International Schools Software Competition 2014 which held in Chennai, India and t hey competed with six teams were placed third and fourth respectively. The International Schools Software Competition 2014 is organized by the South Asian Regional Computer Confederation–SEARCC.The Computer Society of Sri Lanka is the leading body in the country which represents professionals in the ICT sphere.