---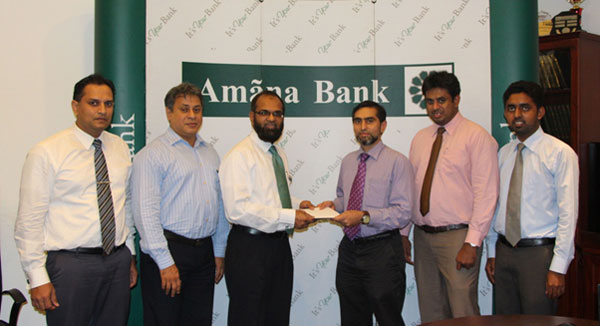 Exchange of the documents between Amãna Bank's CEO Mr Mohamed Azmeer and Vidullanka's MD Mr Riyaz Sangani. Also in the picture is Amãna Bank's VP - Business Banking Mr Amrit CanagaRetna, Customer Relationship Manager Mr Shehan Brandon(Left), Vidullanka Business Development Manager - Hydro Division, Mr Sandun Thalagala and Head of Finance, Mr Mafaz Ansar (Right)


A ceremony was held at the Corporate Office of Amãna Bank with the attendance of key officials from the Bank and Vidullanka PLC in order mark the successful completion and commissioning of the Lower Kotmale Hydro Power Plant project.

Having connected to the national grid, the 4 MW mini hydro power plant located at Nuwareliya has a capacity of generating 13.1GWh of energy annually and is estimated to reduce the country's carbon emission by 8,225 tons.

Commenting on this, Amãna Bank's CEO Mr Mohamed Azmeer said "We are indeed happy to note the completion of another successful hydro power project with Vidullanka. Over the years Vidullanka have pioneered projects on renewable power generation and have contributed significantly to meet the country's electricity demand. Our continued partnership with Vidullanka in financing such projects testifies our commitment towards assisting the sustainable growth of our economy."

Appreciating Amãna Bank's involvement, Vidullanka's CEO Mr Riyaz Sangani said "We are delighted to partner yet again with Amãna Bank for the Lower Kotmale project. They have been our preferred financing partner for both the Madugeta and Lower Kotmale hydro power projects. We look forward to leverage on this partnership on our future plans as well"

Amãna Bank's financing of the Lower Kotmale Oya Mini Hydro Power Plant also won the Bank, the Gold Award for the Best Islamic Finance Deal of the Year for 2013, at the inaugural Sri Lanka Islamic Banking and Financing Industry Awards ceremony held in 2013.

Vidullanka constructs and operates renewable energy projects, using hydro sources and continuing it aggressive approach to new capacity addition having doubled the capacity within last three years. As a BOI approved company incorporated in 1997, Vidullanka plays a significant role in developing the Island's renewable energy generation capacity and contributing to the National Grid

Amãna Bank is the first Licensed Commercial Bank in Sri Lanka to operate in complete harmony with the non-interest based Islamic banking model. Powered by the stability and the support of its strategic shareholders Bank Islam Malaysia Berhad, the Islamic Development Bank based in Saudi Arabia and AB Bank in Bangladesh, Amãna Bank is making inroads in the Sri Lankan banking industry and is focused on capitalizing the growing market potential for their unique banking model across the country.