---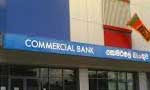 Commercial Bank of Ceylon (ComBank) has once again announced a series of attractive discounts for credit and debit cardholders at 44 popular retailers of clothing, lingerie, footwear, jewellery, home appliances and perfumes during the festive season.Discounts of 10 percent to 25 percent will apply on purchases paid for with Commercial Bank credit cards while discounts from 10 percent to 20 percent will be available on debit cards under this promotion on specified days between December 4 and 28, 2014, the bank said.

The participating retailers are Ashee Collection, Beverly Street, Brand Wearhouse, Choice Park, CIB Shopping, Cool Planet, Diliganz, Dilly & Carlo, Emerald/Crocodile, Dockers, French Connection, Galleria, Giordano, Levi's, Mango, Mothercare, Nike, Double XL, DSI, Reebok, Clarks, Fashion Bug, Genesis & Basics, Glitz, Hameedia, Adidas, Planet Fashion, Signature, The Raymond Shop, Kreations, Mahanathi, Much More, New Sriyani Dress Point, Nolimit, Pallu, Romafour, Saree Mandir, 7 stories Ranjanas, Spring & Summer, TFO, The Parfumerie, Triumph and Vogue Jewellers.At Emerald/Crocodile, Diliganz, Beverly Street, Cool Planet, Saree Mandir and The Parfumerie discounts will be offered from December 4 to 7, while discounts at Glitz will be offered on December 8 and 9. Discounts at Brand Wearhouse, Romafour, Softlogic outlets, Double XL, Kreations and the TFO are offered from December 8 to 10, the bank said.

Spring & Summer, 7 stories Ranjanas, New Sriyani Dress Point, Dilly & Carlo, Mahanathi and Fashion Bug offer discounts for credit and debit cards from December 10 to 14. Nolimit and Pallu will offer discounts on December 12 and 13, while Much More, Triumph and Choice Park will offer discounts from December 12 to 14. Hameedia will also join the promotion for credit and debit cards from December 13 to 15.

CIB Shopping, Vogue Jewellers (offering 17 percent on Gold Jewellery and up t o 45 percent on Diamond jewellery), DSI, Clarks, Reebok and Ashee Collection offer discounts for credit and debit cards from December 16 to 21. Genesis & Basics join the promotion from December 22 to 24, while discounts at the Beverly Street Rajagiriya outlet will be from December 26 to 28.

"As always, Commercial Bank reserves special offers for every major festive season of t he year," said Commercial Bank Card Centre Chief Manager Thusitha Suraweera. "Commercial Bank credit and debit cards make the shopping experience much more enjoyable at such times."
These promotions significantly enhance the benefits already offered by 'Comdeals,' a programme which provides value addition to Commercial Bank cardholders through discounts at a number of major retail outlets in the country and 0 percent easy payment schemes for credit cardholders, the bank said. Commercial Bank cardholders are also eligible to participate in global promotions carried out by Visa and MasterCard.

Ranked the 'Strongest Bank in Sri Lanka in 2014' by The Asian Banker and the only Sri Lankan bank to be ranked among the top 1000 banks of the world for four consecutive years, Commercial Bank is also the most valuable private sector brand in the country in 2014.