---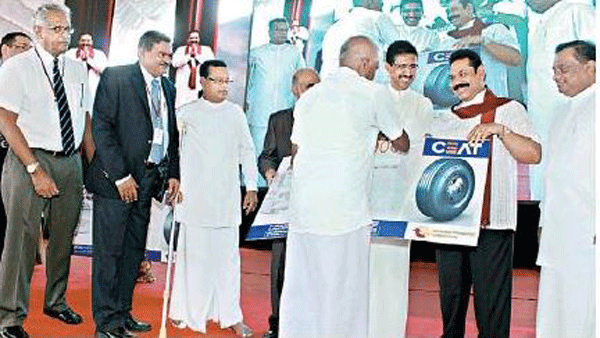 CEAT Kelani Holdings, the company that manufactures and caters to more than half of Sri Lanka's tyre needs, has launched a new bus tyre designed and manufactured for the purpose of supporting initiatives to reduce public transport costs.

Branded 'CEAT Bus Special', the new 9.00 – 20 size tyre with a ply rating of 16 has an increased tread depth of 16 mm that delivers higher mileage and will be the only bus tyre retailing at an effective price of under Rs.30,000 in Sri Lanka, the company said.Weighing in at 41.2kgs, the new tyre is targeted at the 18,600 private buses operating in Sri Lanka under the regulatory purview of the National Transport Commission (NTC) and represents an important addition to CEAT's bus tyre portfolio, which also includes the popular 'Turbo Rib' and 'XL Super' tyres.

CEAT Kelani Holdings is already the principal supplier of tyres to the state-owned Sri Lanka Transport Board (SLTB)."The magic combination of lower price and higher mileage is exactly what any public transport operator is looking for," CEAT Kelani Managing Director N.C. Venugopal said. "This is a challenge that we are constantly engaging with in the commercial tyre segment in particular, where the price to performance equation is critical. The Bus Special produced at our Kelaniya plant is the result of this effort."

The new tyre has an introductory cash price tag of Rs.31,900 but every tyre purchase will entitle the purchaser to a discount voucher of Rs.2,000 to be distributed via the National Transport Commission, making the effective price of the CEAT Bus Special tyre Rs.29,900, -- the lowest price in the market in its category.

The first 10 CEAT Bus Special token discount vouchers were presented to private bus owners by President Mahinda Rajapaksa, in a symbolic acknowledgement of this initiative by CEAT Kelani Holdings.The market leader in Sri Lanka in both the radial and commercial tyre segments, CEAT has accounted for nearly 50 percent of the country's tyre requirements since the second quarter of 2013-14, contributing to a massive saving of foreign exchange for Sri Lanka through import substitution. The brand currently has market shares of 55 percent for tyres in the truck/light truck category, 31 percent in radials, 44 percent in three-wheeler, 19 percent in motorcycle and 73 percent in the agricultural segments.

A global tyre brand present in 110 countries and now headquartered in India, CEAT is an acronym that stands for Cavi Electrici Affini Torino, or Electrical Cables & Allied Products of Turin, with origins that date back to 1924 in Italy. A National Business Excellence Award winner in 2010, 2011, and 2012 and a National Quality Award winner in the 'Manufacturing – Large' category in 2013, CEAT - Kelani Holdings is a successful Indo-Sri Lanka joint venture between the RPG group of India and Kelani Tyre – Sri Lanka. The company operates three manufacturing units in Sri Lanka and employs a workforce of 1,000 people.