---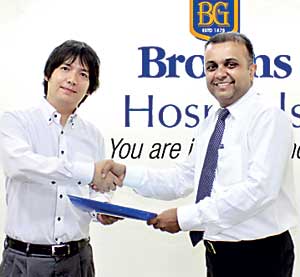 Browns Hospital Ragama recently signed up with eChannelling PLC to offer hospital/doctor appointment services to its patients.

The eChannelling service is a complete e-commerce based service which can be accessed by dialling 225 in order to channel an appointment with a Medical Specialist or a Consultant.

The service can also be accessed via its website, through a wide network of pharmacies, bank counters and other retailers.

Launched earlier this year, the fully-fledged, 70-bed, multi-specialty Browns Hospital in Ragama is equipped with the latest technology in medical diagnostics comprising modern CT and MRI scanning, and advanced medical and surgical therapeutic technology.

The newest venture of Brown & Company PLC, this multi-specialty Hospital is the first in a chain of secondary care general hospitals and diagnostic centres which are dedicated to provide high quality care through comprehensive, integrated clinical practice and personalised care, to every patient.

Browns Hospital Ragama has a high profile medical team of highly qualified and recognised visiting consultants in all specialties and in-house doctors as well as highly experienced nursing staff. Qualified nurses from both the private and government sector strengthen the nursing care at Browns Hospital Ragama.