---

The Asian Development Bank (ADB) has recommended Sri Lanka to strengthen its energy sector by diversifying its traditional energy mix and improving cost reflective tariff mechanism.

Increasing reliance on thermal energy alongside delayed construction of hydropower plants were highlighted as issues likely to have negative implications on Sri Lanka's energy sector, in the ADB's recently released Asian Development Outlook 2013 report (ADO 2013).

"Growing reliance on oil-fired plants, higher oil prices and the delayed construction of new hydropower plants have significantly pushed up the cost of generation," the report noted.

The share of thermal power in Sri Lanka's electricity generation mix increased from 6 percent in 1995 to 60 percent during 20082012, leaving the sector with significantly higher exposure to oil price fluctuations.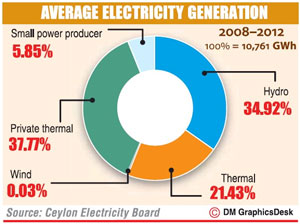 "The option now available for generating large base loads is traditional coal-fired plants, which are under development," it stated, in reference to the Norocholai Power Plant in Puttalam.

The plant has a capacity of 300 megawatts in its first phase with a total planned capacity of 900 megawatts. It has recorded 12 major break-downs since it was commissioned in March 2011.

A cross-border connection to India along with diversification into other traditional forms of energy generation, were also recommended by the ADB as measures to strengthen the island's energy security.

The ADB also called for continuous improvements to electricity transmission links across provinces. However, it noted that securing funding for such projects could prove challenging for the government.

"Disparities still exist in electrification across the provinces. As demand grows, particularly in the former conflict areas, the transmission network must be continuously improved. The challenge is to obtain financial support to implement crucial transmission links."

The report went on to highlight the high cost of electricity in the country despite ad-hoc tariff revisions, which do not fully reflect actual generation costs.

The average cost of electricity generation is currently around Rs.21 per kilowatt-hour, while the average selling price is Rs.16.4.

Meanwhile, the Ceylon Electricity Board's (CEB) estimated losses stand at Rs.65 billion in 2012, even with fuel supplied by Ceylon Petroleum at less than full cost.

Losses in the CEB were more recently touched on in the Central Bank of Sri Lanka's (CBSL) Annual Report for 2012.

"Continuous operational losses at the two key state-owned enterprises- the Ceylon Electricity Board and the Ceylon Petroleum Corporation (CPC), have led these entities to rely heavily on bank borrowings to cover their losses and to continue operations.

While revisions to energy prices area step in the right direction, measures need to be taken to improve the operational efficiency of these entities and introduce a cost reflective flexible pricing policy to transform these enterprises into commercially viable entities and to reduce pressure on commercial banks," the CBSL stated.