---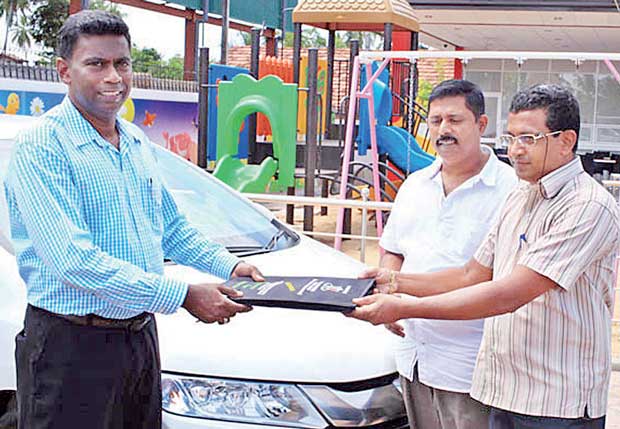 A customer who realized his vehicle dream being presented the car keys by Wasana Trading Lanka (Pvt.) Ltd Managing Director Indika Sampath Merenchige
Wasana Trading Lanka (Pvt.) Ltd, which owns Sri Lanka's largest vehicle yard, has decided to offer its customers another unique opportunity to purchase their dream vehicles for old prices that existed before the budget revisions.

"The prices of vehicles increased due to certain budget proposals and due to the changes that happen in the exchange rates. However, we decided to sell our existing stock of vehicles for very concessionary prices without passing the burden of the tax hikes on the public. We consider this as a special discount offered to our customers who have placed their trust and confidence on us," said Wasana Trading Lanka (Pvt.) Ltd Managing Director Indika Sampath Merenchige.

Accordingly, for the same old price brands such as Toyota Hiace, Axio, Prius, Allion, Premio, Aqua, Prado, Nissan Leaf, X-Trail, Caravan, Honda Fit, Grace, Mitsubishi Outlander, Suzuki Hustler and Wagon R can be purchased from Wasana Trading Lanka (Pvt.) Ltd. Not only the vehicles imported before the budget but also the vehicles cleared from the harbour after the budget, are in the stock for sale, an official of Wasana Trading Lanka said.

"This special offer is valid only till stocks last. So visit us and realise your vehicle dream soon," urged Merenchige.

Wasana Trading Lanka (Pvt.) Ltd is equipped with a vehicle yard unprecedented to others with new state-of-the art modern facilities at No: 312, Negombo Road, Nagoda, Kandana.

Customers who purchase vehicles from Wasana Trading Lanka (Pvt.) Ltd will also be entitled to services of specialist mechanical technicians of Wasana Care, which is a facility affiliated to Wasana Trading Lanka (Pvt.) Ltd.