---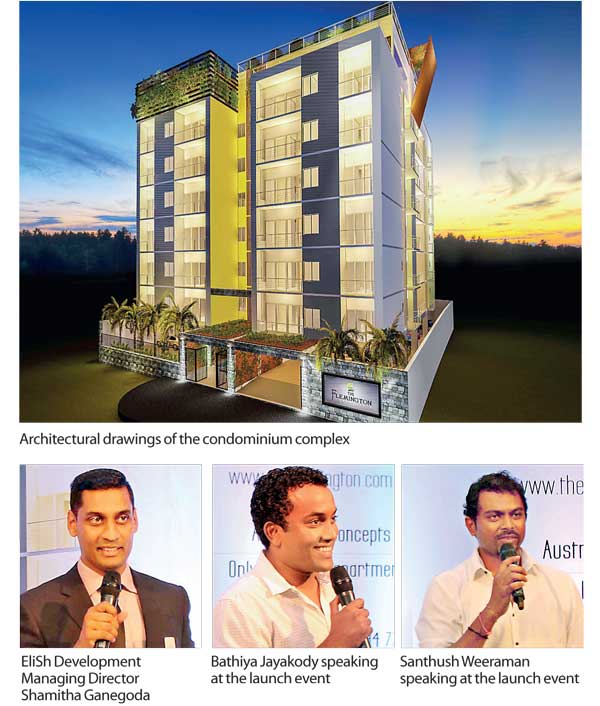 Tuesday, July 26 marked the launch of luxury condominium complex The Flemington, strategically located just 500 metres from Colombo in cosmopolitan Rajagiriya. The event was celebrated with evening cocktails attended by special invitees.

Evoking the luxurious decadence and elegant warmth of Melbourne's prestigious racing culture, The Flemington's 30 elegant condominiums are designed by award-winning architect Darnie Rajapakse of Jungle Beach by Uga fame. Darnie practiced her discipline in New Jersey and New York before moving to Sri Lanka to establish Studio Vivege as its Principal Architect. Heavily influenced by Australian living spaces, these condominiums designed by Darnie will espouse the idea of spacious living amidst bustling city life, with a distinctly Melbourne appeal in design.

Located on Nawala Road in Rajagiriya, a comfortable but stone's throw of a distance from the city, The Flemington is in close proximity to leading schools, fine dining restaurants, hotels, and hospitals such as Asiri Surgical and Castle Hospital, as well as walking paths alongside several key roads connecting to Katunayake, Kandy and Galle. Key highway and overpass projects have been proposed for this area, thus making the neighbourhood a coveted investment in the city.

Each apartment, with an area ranging from 1,350 to 1,500 square feet is furnished with three bedrooms including a master bedroom with a walk in closet, bathrooms with en-suite, three balconies, and separate domestic entrance and bathroom. Apart from access to parking, 24-hour security and CCTV footage, residents will receive the best of luxury living amenities including a swimming pool, gymnasium, rooftop entertainment pods, BBQ facilities, a function room and a club house.
The Flemington is the brainchild of EliSh Development (Pvt.) Ltd, a Melbourne-based property developer committed to transforming property development into aesthetic symbols of modern living. Shamitha Ganegoda, Managing Director of EliSh Development noted that this landmark project in Colombo draws from EliSh's Melbourne familiarity to bring modern Australian living paradigms to Colombo.

"Each condominium has been designed to encapsulate everything you would need in terms of comfort, convenience and of course-style," he noted.

"Our estimated completion is in June 2018-by then, we're confident of reaching a sales target of Rs.1 billion."

Impressed with EliSh's many successful developments in Melbourne, Bathiya Jayakody of BnS fame has been a firm proponent of the developer's expansion to Sri Lanka. Bathiya announced his investment in a luxury Flemington condominium at the launch event along with Santhush Weeraman who followed suit. Prior to its official launch, several apartments which are priced beginning at Rs.29 million per unit had already been purchased, with customers benefiting from an early bird offer available during the month of July.

EliSh partners with engineering consultant Dayananda Associates and NK Construction in transforming Darnie Rajapakse's vision from paper to reality. Darnie herself finds a fine balance of content, aesthetics, innovation, functionality, technology and quality materials in her work. She also believes strongly in sustainable design. The Flemington, which finds its home amidst Rajagiriya's unique blend of greenery and cityscapes, will embody this design ethic.