---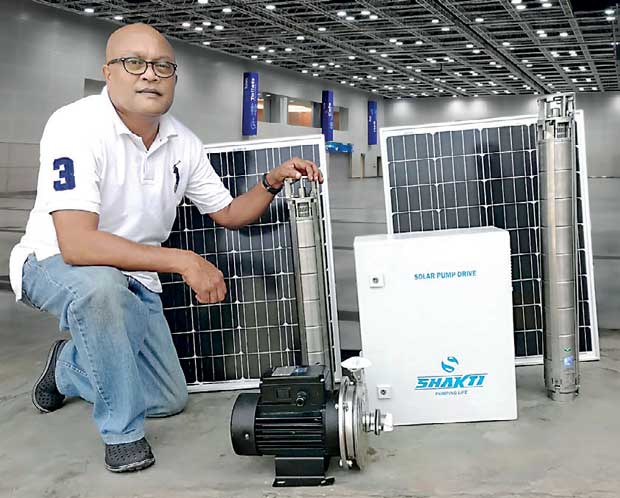 One of the most revolutionary eco-friendly products which has already marked its presence globally, Shakti solar water pumps were introduced to the Sri Lankan market recently.

Marketed by Solar Shakti Sri Lanka, the pumps will provide the perfect solution for the need of water with no cost for electricity at all.

With one time investment, Shakti solar pumps are meant to deliver profits year after year for long life, fulfilling the need for water with no more worries when it comes to electricity or fuel costs.

Shakti is a synonym for efficiency, reliability, durability and after sales service and Solar Shakti Sri Lanka are ready to carry its good name forward.

Shakti introduced energy efficient pumps and motors and 100 percent stainless steel pumps in India and is one of the largest manufacturers of solar pumps and largest exporters of submersible pumps. They also claim a market share of more than three quarters in the solar pumps industry. Branded as 'India's most trusted solar pump manufacturer' by multi-national companies around the world, Shakti solar pumps have won the hearts of millions around the world.

A solar pump is operated with the help of PV panels that convert solar energy into electricity that drives motors and pumps, making it possible to draw or circulate water from a well, river, lake or tube well using solar energy. Shakti solar pump is the ideal partner for the task, and it makes big promises.
There are tons of reasons to choose Shakti. Fully loaded with a number of high-tech features, Shakti solar pumps have proven their class over the years.

Shakti Solar pump leaps many steps beyond the traditional methods of using water pumps. The users will gain total freedom without having to rely on inconsistent grid power or diesel/ kerosene driven pumps. There will be zero motor burnouts, transformer burnouts and running cost since sunlight is free of charge for everyone.

Shakti solar motors are specially designed for high efficiency and long life, giving more discharge than other solar pumps of same rating. An ordinary solar pump starts late after sunrise and shuts early; or require more solar PV panels, to deliver the same water as a Shakti solar pump.

A unique feature of Shakti is that all parts of pumps and motors are made of stainlesssteel, so even after prolonged use, it will stay rust-free, making it one of the most reliable and durable products in the market. The motor is brushless and is water-cooled, making sure it's operated at its best capacity over a long period of time.

Shakti Solar Pumps can be operated on both grid power and solar power and the pumps have inbuilt measures to protectagainst over-voltage, under-voltage, short circuit, phase imbalance, lightening strikes etc. The mounting structure of the solar panel can withstand wind speeds up to 150 km/hrand is made of hot dip galvanized metal for long corrosion free life of 15 years.

It leaves no carbon footprint as there will be no air pollution.

The solar pump set contoller is equipped with a GPRS receiver-transmitter, making it probably the most advanced product of its calibre.