---
By Zahara Zuhair
Royal Institute of British Architects (RIBA), the parental body of the Sri Lanka Institute of Architects, established a branch in Sri Lanka last week named 'RIBA Members : Sri Lanka', the second RIBA membership group to be formed in the Asia Pacific region.

This idea for this establishment bore fruit in January 2015 during the visit of Vice President Anthony Clerici to Sri Lanka.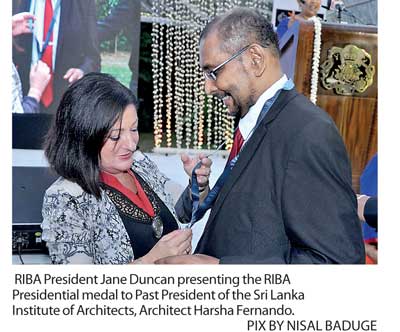 British High Commissioner James Dauris talking at his residence in Colombo said that with United Kingdom (UK) having world class architecture, Sri Lanka will rise together with RIBA in this important field.

He said that architecture is an exciting field that shapes the world we live, that makes the cities and homes.

He said that in its 200 years long history, education is one aspect both the countries enjoy sharing greater links. It is proved with the success of the British Councils and the number of UK based universities in Sri Lanka.

"Today there are 29 British Universities in Sri Lanka offering British degrees with Sri Lankan parties and we have Sri Lankan students in UK studying for Under Graduate and Post Graduate level. And we have links with so many professional associations," he said.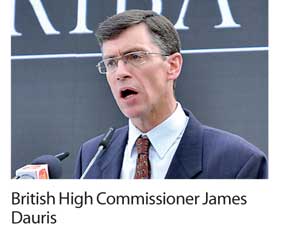 As education is the most important tool that can be used to change the world, he stressed that it is important to set standards either it is in professional level or in school level. He said that RIBA has every right to feel proud to the fact that UK based architects are well renowned around the world with the training they get under expertise. "In the rankings last year, UK held three of the top 10 universities in the world of architecture which includes the Cambridge University. We pride ourselves on how the industry nurtured young talents, exploring innovative ideas and methods," he said.
RIBA President Jane Duncan said that she is delighted to be able to support RIBA Members Sri Lanka with this inauguration and looking forward to the future development of the group.

She said with their plans to be a global professional body by 2020, this is an important extension in their global family.

The Chief Guest of the event was Deshamanya Dr. Roland Silva, the oldest distinguished RIBA Member in Sri Lanka. The event also saw the presentation of the RIBA Presidential medal to guest of honour and Past President of the Sri Lanka Institute of Architects, Architect Harsha Fernando.
"I'm speechless for the honour they showed upon me, by one of the oldest institutes in the world," expressed Fernando.

The RIBA was established in 1834, specially for the advancement of architecture and promotion of the acquirement of knowledge of the arts and sciences, under its Charter in the UK. It is also the premier educational regulatory body and authority that accredits the education of Architecture world over. Its membership includes 44,000 architects.