---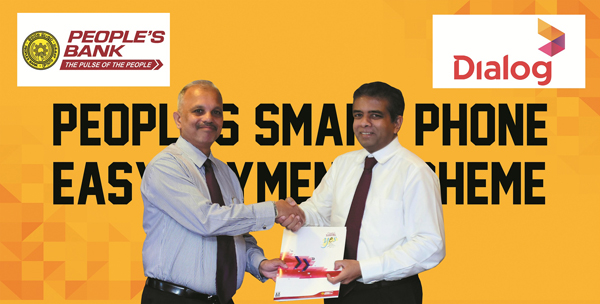 Committed to enhancing customer convenience, People's Bank has embarked on an aggressive digitalization drive to deliver greater convenience and speed to customers. In a unique initiative to empower its customer base, People's Bank has launched the 'People's Smart Phone Easy Payment Scheme' in partnership with two leading telecom operators in the country, Dialog and Mobitel. This innovative scheme enables the bank's 13 million customer base island wide to purchase smartphones - from either of the mobile service providers - at 0% interest with installment plans of up to 24 - months withthe People's Bank Voice banking app, This scheme will help People's Bank customers to own their dream smart phone and will on the other hand help the bank build its relationship with the customer as well as to popularize digital banking. The 'People's Smart Phone Easy Payment Scheme' promotion is valid upto 31st March 2017.
People's Bank has consistently spearheaded the banking industry towards a more robust future and this unique scheme will not only improve the profile of the sector, but will also help fulfil customers' aspirations of owning feature-rich smartphones, providing them access to the internet and enhance IT literacy. The People's Bank Voice App, which empowers customers to check their account balance via their mobile phones by a simple voice command, will be the first of many apps that the bank is rolling out to its customers to enable seamless banking on their Android, Windows and iOSenabled smartphones.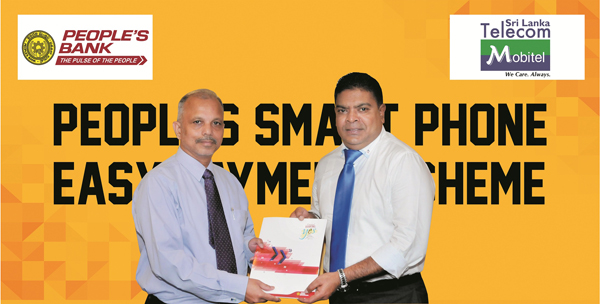 Customers interested in purchasing a smartphone through the 'People's Smartphone Easy Payment Scheme' will need to have a sufficient balance in their Savings, FD or NRFC account. Customers balance will be held in their account and they will be eligible to purchase a smartphone for 95% of the value held in the account. Eligible customers will be issued a letter at their request to purchase a smart phone, which can be presented at any Dialog or Mobitel office to enable them to make use of the special price. Once the initial payment is made, the customer can then opt to pay a reasonable monthly installment to cover the remaining amount that is due.
Commenting on the digital drive of People's Bank, N. Vasantha Kumar - Chief Executive Officer/General Manager, People's Bank said "People's Bank is working towards being the most successful bank in Sri Lanka through the digitization of its services. With the widest network of up to 740 branches island-wide, we are essentially serving a customer base of over 13 million. With these strengths, People's Bank is in the ideal position to take the convenience of digitalized banking services of to all citizens of Sri Lanka".
Ranjith Kodituwakku, Deputy General Manager (Off shore banking & Digitalization) of People's Bank, says, "People's Bank is the first bank in Sri Lanka to launch a promotion of this nature, which brings smartphones within easy reach of all customers by making it available at a special rate. One of the biggest barriers for people to connect with digital technology and avail of its benefits is limited accessibility to technological devices and facilities. One in three people in developed markets now carry a smartphone and this scheme will drive smartphone penetration in Sri Lanka. People's Bank is proud to empower its customer base to move up onto the latest digital platform through 'People's Smart Phone Easy Payment Scheme' which can be deemed a social responsibility initiative. Besides the People's Bank Voice App, we have plans to roll out other smartphone enabled apps that will make banking with People's Bank a seamless process."
Lionel Galagedara, People's Bank's Deputy General Manager (Retail Banking), adds, "People's Bank has established a strong reputation as a customer-focused bank and is regularly devising banking products and solutions to deliver enhanced convenience, ease-of-use and efficiency for its customers. This one-of-a-kind easy payment scheme to make smartphones affordable for customers demonstrates the bank's commitment to its loyal customer base. Our Environmental Sustainability Policy, the People's Green Pulse, is inspiring the bank to think out of the box to design one-of-a-kind banking solutions for a greener future."
Priyantha Edirisinghe, Head of IT at People's Bank, explains, "The 'People's Smart Phone Easy Payment Scheme' is a landmark promotion to bring the benefits of the digital age into the hands of consumers by offering them easy access to smartphones at 0% interest rates with installment plans of up to 24 - months.We believe that this scheme will dramatically elevate people's access to the benefits of digital banking. Considering that People's Bank has a widespread network of 740 branches, we expect this scheme to impact the lives of citizens nationwide. Moreover, customers are free to select from the wide price range of smartphones provided by the mobile providers. People's Bank is proud to be aligned with the government's efforts to take the nation into the digital age."
Nalin Perera, Chief Operating Officer of SLT Mobitel commented, "It is a pleasure for Mobitel to partner with a national organization such as People's Bank to provide customers access to ICT services which is a growing trend globally. Mobitel operates with the vision of leading Sri Lanka towards an info-com and knowledge-rich society through digitalization and innovative service offerings - and with this partnership, both People's Bank and Mobitel customers will be empowered to utilize modern technology to improve their day-to-day lives.Mobitel's mobile network along with the latest technology will complement the offer with the best service and connectivity and also provide the latest and widest array of devices to the customers on this special offer."