---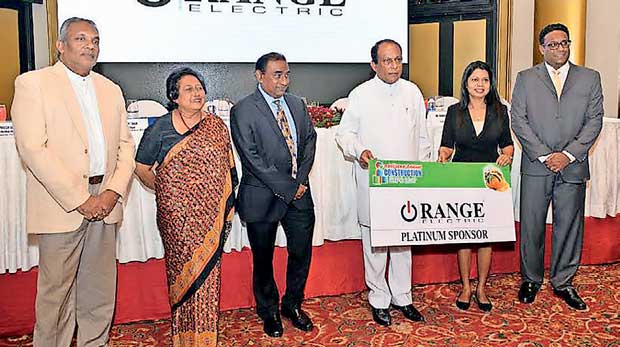 From left:Arjun Dharmadasa, Managing Director – LECS,Prof. Chitra Weddikkara,Chairperson of Construction Expo Organizing Committee, Dr. Rohan Karunaratne, President – Ceylon Institute of Builders and Aasim Mukthar, CEO – LECS
Construction Expo 2017, Sri Lanka's most comprehensive exhibition featuring all aspects related to the construction and building industry is scheduled to be held on 2nd – 4th June at the BMICH.
The Ceylon Institute of Builders (CIOB) together with presidential award winner Lanka Exhibitions & Conference Services will be organizing this mega event for the 6th consecutive year. Endorsed by the construction fraternity as the premier construction and building materials exhibition to be staged in Sri Lanka, Construction Expo 2017 will once again showcase the best of what the industry has on offer.
Orange Electric join hands with Construction Expo 2017 as a platinum sponsor. The electric bulb is one of the greatest inventions of all time, providing the ability to witness moments of happiness that create memories to last a lifetime. Orange Electric connects with people all over the world on this journey of creating and witnessing seamless moments of happiness for generations to come. Whilst innovation and technology take center stage at Orange Electric, the company has also established a firm foundation made up of honest, hardworking people. And these success-makers are spread across the world, from the manufacturing plant in Sri Lanka to offices located in 6 continents. The company's core product groups provide lighting, electrical, and digital infrastructure for residential, commercial, industrial and hospitality installations. The 1500-member IT team is right there at the forefront of technology development, working to support the world's leading ground truth companies, to build machines that will replace human judgment, work a million times faster and accurately, every time. Construction Expo 2017 will be a one of a kind event with almost every stakeholder related to the industry being present.
The consumers have grown to look at the exhibition as a 'one-stop-shop' for all their construction needs and over the years the exhibition has seen thousands of consumers make all purchases, inquiries and other related work during the three days of the show satisfying all their construction related needs under one roof.