---

Steel is an essential material, the backbone to countless products used in many industries, structures and services shaping
the world.
As the steel industry transforms into a high-tech business, Nawaloka Steel (Pvt) Ltd, a subsidiary of Nawaloka Holdings, has emerged as a dynamic player providing customers high quality products and
innovative offerings.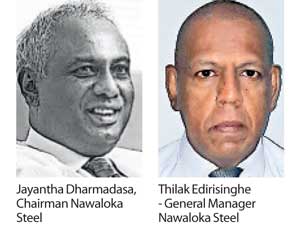 In the market since 1964 under the Nawaloka umbrella, five decades later, the company has evolved according to the changing needs of the marketplace with a product portfolio that represents reliability and quality to customers.
"To be a leader in the local steel industry requires an entrepreneurial spirit, persisting in producing the highest-quality products. Today we are a dynamic player in the local market and want to be part Sri Lanka's infrastructure growth by offering quality solutions to match with local needs," noted Jayantha Dharmadasa, Chairman Nawaloka Steel Pvt., Ltd.
Since 2009, Nawaloka Steel began manufacturing wire nails at its own production facility and has continually developed a wide range of high performance products. Today its product portfolio has expanded to include mild steel wire nails, barbed wire - galvanized and pvc coated, galvanised roofing sheets, galvanised welded mesh and pvc coated chain link fencing. To enhance the efficiency of its retail activity and to expand its scope of business, Nawaloka Steel has placed special emphasis on strengthening its dealer network spread across the country
With a monthly output of over 800 tonnes, Nawaloka Steel procures raw materials locally, from India and from China. The company comprises of 140 staff including the factory, sales and management units, who are qualified and dedicated in ensuring that customer requirements are fulfilled.
All products manufactured by Nawaloka Steel are in keeping with international standards. The company uses state-of-the-art ENKOTEC machinery from Denmark, the world's leading supplier of high-performance machinery for the manufacture of wire nails. SLS certification for the factory is expected in the near future.
"We remain committed in our vision to become the country's leading steel products manufacturer providing customer with cutting-edge solutions and value for money," noted Jayantha Dharmadasa.