---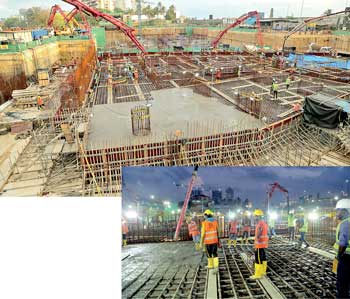 A forerunner in Sri Lanka's construction industry, Nawaloka Construction Company (Private) Limited, recently completed the massive concrete pouring project at ITC One Colombo 1.

Contracted through Larsen and Toubro Limited, India, Nawaloka Construction is the contractor for the 31-floor hotel tower and podium of the mixed development project.

This undertaking by the 68 year old veteran construction company was the second biggest continuous concrete pouring in the history of Sri Lanka. For 54 hours non-stop Nawaloka Construction's highly-skilled team worked tirelessly to ensure that every aspect of the concrete pouring was carried out to the specifications. With the fastest concrete flow rate in the history of Sri Lanka at 103 cubic-metres per hour, the team covered a total of 5650 cubic-metres.

Speaking on the completion of this project, Nawaloka Construction Company Chief Executive Officer Kalana Alwis said: "We are indeed humbled to be involved with a globally recognized hotel chain like ITC and in turn to be contributing to the growth of infrastructure and the tourism sector in Sri Lanka. This project was a testament to Nawaloka Construction's capabilities and strength that is backed by almost seven decades of trust. We are looking forward to the completion of ITC One Colombo 1 which will be an icon in the Colombo skyline."

Nawaloka Construction used the highest quality thermal control concrete with a temperature gradient below 20 degrees-Celsius for the project. They also used a high percentage of 40 percent fly ash and used 100 percent manufacturing sand in the production mix to ensure that the concrete met with global green building qualities and certifications.

The company places great emphasis on meeting environmental standards as required by the Central Environment Authority and have also maintained the quality control measures required under the ISO 9001:2008, ISO 14001:2004 and OHAS 18001:2007 and CIOB Green Gold Certification accreditations.

The ITC One Colombo 1 project is a mixed development project of two towers on the Galle Face Road, consisting of 135 units of high-end residential apartments in one tower and a five star hotel of 350 keys in the other tower. The project has a unique feature of a sky bridge with a swimming pool at 100 metres height connecting the residential tower with the hotel tower.