---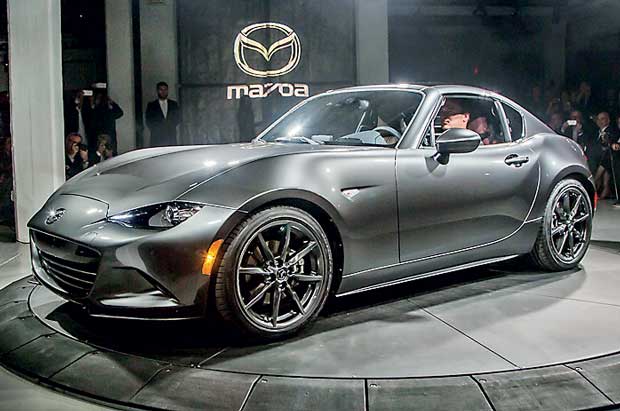 The 2017 Mazda MX- 5 Miata RF debuted at the 2016 New York Auto Show, impressing the gathering with the more upscale approach to the popular roadster. The Miata RF is expected to go on sale in
Spring 2017.
The cabin is designed to better accommodate the driver and passengers, without a height adjuster, giving more room to taller drivers. The Miata RF features a unique 4.6-inch color display next to its instrument cluster. The soft-top offers up a black and white display that shows the temperature, fuel level, and trip computer, but the RF's TFT display will also feature vehicle graphics, such as when the roof is opening or closing.
Compared to the 2016 Mazda MX- 5 Miata, the hardtop does not take any extra trunk space, with the hardtop folding into the same space as the soft top. The design of the hardtop does not disrupt the side profile or jut from the rear fender. Due to a combination of engineering and design, the Miata RF achieves a coupe-like appearance without dramatically affecting the overall look of the car.
The Miata RF has the fastest retractable hardtop in the industry. In just 12.5 seconds, the new RF's top goes from fully closed to fully opened, and can do this at speeds up to 6 mph. The hardtop utilizes the same motor found in the third-gen model's hardtop, but has been tweaked to offer faster opening and closing times.