---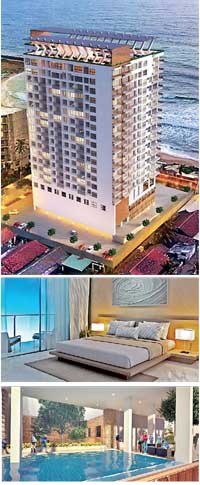 Seven glorious penthouses with floor-to-ceiling, panoramic ocean views is only the beginning. Throw in a 80-foot infinity pool, a fully-equipped gymnasium, stylish lounging areas and a rooftop clubhouse.

All this adds up to a truly enviable lifestyle that is second to none anywhere in Sri Lanka.

Luxury living has never been any better, so experience it firsthand at 333 Pinnacle, a high end condominium development located at the prestigious, beachfront 333 Beach Road, Negombo address.

Can't afford a penthouse? Select from one of 195 superior apartments, nestled in the luxurious and rarified air within 333 Pinnacle's 19 stylish and impeccably designed floors. In fact, 333 Pinnacle takes the concept of vertical living to a whole new level as this building is a true architectural marvel, utilising high, sweeping courtyards and a lush leisure space on the fourth floor, to break the monotony that is typical of tall buildings.

Beyond the ultra exclusive penthouses, individual apartments are also imbued with facilities add even more glamour and opulence, from centralised ventilation systems to keep all common and lounge areas cool and comfortable, to wood-furnished, laminated floors and quartz vanities, with international quality fittings and faucets throughout, which is standard across 333 Pinnacle so that a long-lasting and luxurious ambiance is always on display. New age kitchen setts also encompass two-door fridges, wine coolers, four-burner hobs, extractors, ovens, microwaves and dish washers to heighten your daily dining experience.

Additionally, centralised ventilation systems are built in, keeping common and lounge areas cool and comfortable at all times. Apartments are also equipped with modern luxuries like a fibre optic network for telephones, televisions and WiFi.

Most important of all, the property is set within lush greenery, close to a secluded and private beach, within the tropical paradise of Negombo, enabling a range of exciting and vibrant daytime and nighttime activities, a stone's throw away in every direction.

333 Pinnacle is also ideally situated for any type of water sports, from fishing and sailing, to snorkeling and pretty much anything else you love or want to try out in your own little piece of paradise. 333 Pinnacle is a luxury condo project by well-established local real estate developer Pinnacle Residencies, in partnership with Floreat Homes. Exclusive Property marketing and sales for this development is carried out by My Property, a premier real estate company in Sri Lanka with a global outlook. My Property (Pvt.) Ltd is a wholly-owned subsidiary of Dwellings Group, Australia.