---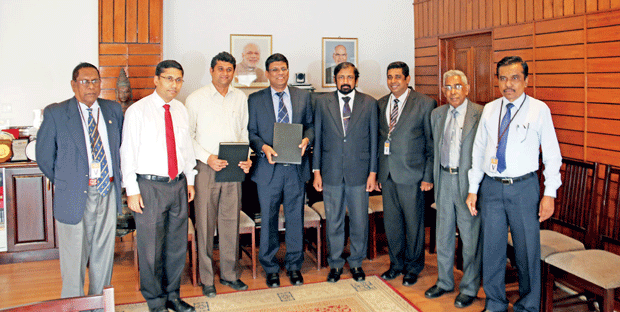 Officials of Indian High Commission in Sri Lanka and Link Engineering (Pvt.) Ltd after signing the official agreement between the two parties
A front-runner in Sri Lanka's construction industry and part of the reputed Blue Ocean Group, Link Engineering was recently awarded yet another mega development project by the High Commission of India.

As part of India's development partnership with Sri Lanka in the field education, Link Engineering will be thus responsible for the development of a multi ethnic Tri-lingual School in Polonnaruwa, funded by the Government of India. The project is carried out in consultation with the Ministry of Education.

The agreement in this regard was recently signed between Indian High Commission Colombo Development Corporation Counsellor D.C. Manjunath and Blue Ocean Group Chairman S. Thumilan in the presence of Acting High Commissioner of India Arindam Bagchi and Sri Lanka President's Chief of Staff Ranjan Dharmawardana. Representatives of the Education Ministry and officials of Link Engineering were also present in the event.

Link Engineering is currently steering the development of three other mega projects, also funded by the Indian High Commission, which are namely; the Faculty of Agriculture, University of Jaffna in Kilinochchi, Faculty of Engineering, University of Jaffna in Kilinochchi and Tagore Memorial Auditorium of University of Ruhuna in Matara. The newly awarded project in Polonnaruwa joins the line up as the fourth consecutive project.

Speaking of this win, Link Engineering (Pvt.) Ltd Chairman S. Thumilan said: "It is not a mere achievement to win a project. It is also an honour as it bears testimony to the trust our esteemed client has placed in us. It also shows that our commitment to excellence has been recognized and our client centric approach is rewarded. This is why we consider it a great honour to be awarded this new project by the High Commission of India."

"Link Engineering is a versatile player in the industry, involved in projects across many different segments and excelling in all of them. We have used our engineering capabilities as well as our ability to provide professional, client oriented services to strengthen our presence across all these segments. As this achievement goes onto show, we will continue to strive and continue to be the impactful developer that we have evolved to be today," he further added.

With over four decades of experience under their belt, Link Engineering has been shouldering a bulk of construction work in the country across many fields, from condominium and commercial projects to government funded development projects. Link Engineering, as a fully owned subsidiary of the Blue Ocean group, has been pivotal in the group's success over the past in setting the benchmark for the local construction industry.