---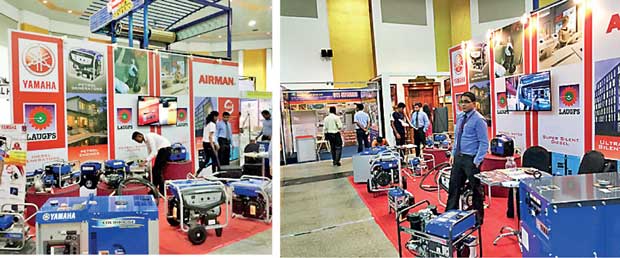 Laugfs International took part in the recently concluded 12th Build Sri Lanka Construction and Renovation Expo 2016 drawing in large crowds to its stall that displayed world-renowned Yamaha and Airman products.
Organized by the Chamber of Construction Industry Sri Lanka (CCI), the exhibition was held at the BMICH over a three day period, with the participation of both local and International delegates from varied sectors representing the Construction industry.
Laugfs international is the authorised distributor for Yamaha Power products & Airman Diesel Generators in Sri Lanka. It demonstrated a wide range of products at the Expo, including Yamaha generators from 0.5kva to 30kva and Airman Generators from 10kva to 800kva together with inverter generators, engines and water pumps.
The broad portfolio of superior quality Yamaha products include the 0.5kVA to 6kVA Yamaha Petrol generator range, 6kVA to 33kVA diesel generators, 1kVA to 6.3kVA Inverter generators, 4hp to 11hp engines as well as petrol water pumps. 10kVA to 800kVA Super Silent and 20KVA to 100kVA Ultra Super Silent Airman diesel generators were also displayed at the Expo.
Fuelled by the recent positive developments in both urban and rural areas of Sri Lanka, the Build SL Expo 2016 has this year brought together a diverse range of organizations relevant to the construction industry, showcasing the latest technology and advanced methods of construction available. It attracted an overwhelming number of visitors from the general public and commercial clientele alike for domestic and industrial / commercial construction sectors.
"We are extremely pleased to be part of Build SL 2016, where visitors got the opportunity to first-hand experience our range of products that were exhibited and to clarify any questions they had from the experts present. This year we have been able to bring in an even wider range of generators and related equipment from two of the largest global brands, assuring quality, reliability and advanced technology for our local construction partners," commented Laugfs International, Director/CEO Wasantha De Silva.
Laugfs International is a subsidiary of Laugfs Holdings, and operates as the trading arm of the group. It made its entry into the power products market as the authorized distributor for the world renowned Yamaha Power Products and has now extended its generator portfolio to represent the global brand – Airman - in Sri Lanka. All Yamaha and Airman Products are manufactured in Japan, applying the latest state-of-the-art technology. Assuring superior quality and reliability through these global brands, and equipped with warrantees and technical assistance provided by in-house experts, Laugfs International has built a reputation as a trusted partner for many private and public sector organizations.