---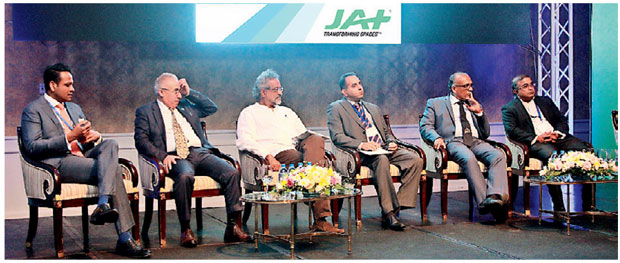 JAT Holdings Managing Director Aelian Gunawardane (far left), School of the Built Environment Dean Hisham Elkadi, Team Architrave Principal Architect Madhura Prematilleke, Engineering Consultations Quantity Surveyor Upul Shantha, Saro Weerasuriya Associates Engineer/Owner Saro Weerasuriya and Civil and Structural Engineering Consultants Managing Director/Principal Structural Engineer Shiromal Fernando
JAT Holdings, Sri Lanka's award-winning conglomerate was a title sponsor of the highly successful Building Specifiers' Conference Second Edition, which was held in Colombo
on 13 June 2017.
This second successive endeavour was held within a short span of five months after the pioneering Builder Specifiers' Conference in January this year, saw a stellar gathering of the delegates involved in every sphere pertaining to the
building industry.
"JAT is proud to be a part of an event of such magnitude, which has created a strong foundation for the trail blazers of the building industry to share their expertise. The escalated focus on building requires a strong platform, enabling all involved in this sphere to ensure that ethical, innovative methods and standards are accurately adhered to in terms of infrastructure development. This unique event puts our island squarely on the forefront of the map of rapidly flourishing nations with a purposeful and futuristic approach to development," said JAT Holdings Managing Director Aelian Gunawardane.
This second conference concentrated primarily on the sphere of building development; enabling the audience to enhance its understanding on the subject of construction which is a pre-requisite for the inculcation of methodologies which are both professional and sustainable; paramount to the success of the development of high-rise buildings with attention to detail.
Since their first appearance in the 19th century, the design and construction of high-rise buildings have undergone a phenomenal transformation. Subsequently, the conference addressed crucial factors which impact the rapid growth in the ever evolving skyline synonymous with modern high-rise construction. With aluminium, glass facades and superlative coatings being essential elements in the aspects of technical functionality as well as aesthetics, this topic became one of the critically discussed topics addressed by a distinguished panel of facade experts from around the world.
Sri Lanka's construction services sector has witnessed a boom in recent years mainly in the property development sector due largely to the expanding demand for affordable high-quality living spaces fuelled by rapid economic development, urbanisation, increased consumer spending, government growth and development plans implemented by the Urban Development Authority. This pro-active role has increased the exigency for the rapid development in infrastructure facilities on a level of mass construction in the form of houses, high-rise buildings, condominiums, universities, schools, roads, highways and bridges. It was these factors which spawned the initial Building Specifiers' Conference which was held on 31 January this year.