---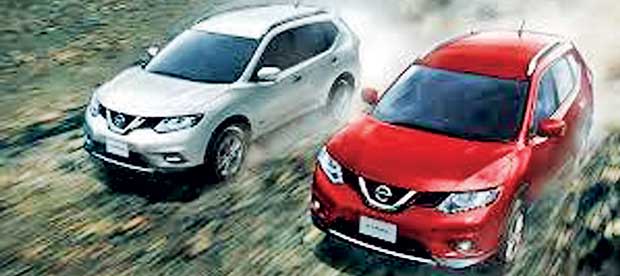 The Sri Lankan vehicle retail market has recently been the centre of focus following the new national budget. The average Sri Lankan vehicle buyer is constantly on the search for good deals on the latest models from Japan. And eventually every Sri Lankan vehicle buyer is faced with a choice: do they purchase a brand-new international spec. model (which is sometimes referred to as the export model) or do they purchase an unregistered vehicle meant for the Japanese domestic market?
This question is shrouded in myth and half-truths resulting in a market that is polarized. It is against this background that Associated Motorways (AMW) came forward to demystify the issue for the benefit of Sri Lankan
vehicle buyers.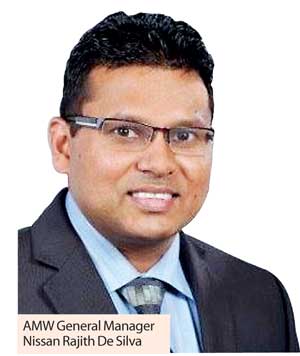 AMW General Manager Nissan Rajith De Silva is a highly qualified and experienced automotive management professional who counts over 12 years international experience in Canada and in the UK. Prior to joining Nissan – AMW, he represented Nissan Canada, Kia Canada and Ford Canada.
He is also a Chartered Management Accountant (ACMA) and a holder of the Chartered Financial Analyst (CFA) designation. He and his highly knowledgeable team at Nissan – AMW ensure all prospective Nissan buyers are getting the best possible car-buying advice while ensuring a superior ownership experience throughout their vehicle ownership cycle.
A popular belief is that the domestic Japanese market model is better. AMW is an authorized agent, dealing only in international spec. models. How does your organisation respond to this state of the market?
We've been Nissan's only authorized Sri Lankan agent since 1957 and that 59-year heritage entails that we adhere to high standards that are set by Nissan Motor Company Japan. Put it simply, AMW is the only company that is authorized by Nissan Motor Company Japan to import brand-new Nissan vehicles into the Sri Lankan market. That is why we are able to bring the international spec. model X-Trail, which is backed by a three-years or 100,000 kilometre manufacturer's warranty - the only warranty that is backed by Nissan Motor Company Japan.
The Nissan X-Trail, for instance, typifies the commitment that both AMW and Nissan Motor Company Japan share in ensuring that the X-Trail driving experience in Sri Lanka is on par with that of the Japanese domestic
market counterparts.
Further, we also ensure that the Nissan X-Trails we sell at AMW are all fully loaded, with all the options being factory-fitted. In fact, our vehicles have more options as standard than the domestic X-Trail models such as genuine leather interior, electric front power seats, etc.
In domestic models, customers will have to use the services of unauthorized technical help in fitting it with accessories such as audio systems, etc. An issue that can arise from fitting other, unauthorized accessories is that it will have unintended side effects. For instance, fitting audio systems that haven't been recommended by Nissan Motor Company Japan can result in the on-board electronics disabling the cruise control system. The Nissan X-Trail is the embodiment of the Japanese car manufacturer's ethos - it isn't just innovation that excites but innovation that excites in any part of the world.
Are third party warranties as good as manufacturer warranties?
That is simply not the case. Even a cursory comparison between Nissan warranties and third party warranties will show a stark difference. Third party warranties cover manufacturer defects – 'major defects' is the term they use – on gearbox, engine. But that term is left to the interpretation of the seller.
At AMW, we offer a comprehensive manufacturer's warranty backed by Nissan Motor Company Japan for three years or 100,000 kilometres, whichever comes first. This is part-for-part replacement. We are talking about Nissan trained technicians and mechanics who will probe and diagnose your vehicle issues. And if that repair takes more than three days, AMW is obliged to ensure that the customer has a courtesy vehicle replacement. All replacement parts are directly sourced from Nissan-authorized sources. That is how we, AMW, together with Nissan Motor Company Japan stand behind every Nissan vehicle we sell.
Do you have ready stock available for purchase?
Yes. At AMW, we have ready stock available for purchase. We've got the full range of colours and unlike certain car sales, we don't charge extra for colours. Further, our vehicles come in two different interior colours – black and beige. So vehicle buyers considering the X-Trail should come over to our showroom and see the many variants in colour from our stock. They'd be able to pick an X-Trail that suits their unique personality.
How does a vehicle retain its value?
The RMV registration is critical in this regard. It helps to distinguish between a brand-new vehicle and a pre-registered vehicle. At Nissan - AMW, we only sell brand-new vehicles – and this holds true to the rest of our Nissan portfolio. Upon registering an AMW-purchased vehicle such as the X-Trail, the RMV documentation will reflect its genuine brand-new status. Our customers get their Nissan vehicles directly from the manufacturer via AMW – the only authorized Nissan agents in Sri Lanka. This distinction is crucial in helping a vehicle retain its value at the time of resale.
There is a perception that prices at authorized dealerships such as AMW are higher than that at unauthorized car sales. How do you respond
to that?
The price difference exists for a reason. It includes an unmatchable Nissan after-sales warranty that could potentially save millions of rupees to customers in case of a major repair. Again this is a part-for-part replacement warranty that ensures the vehicle is in great running condition for its first three years or 100,000 kilometres. It entails vehicle-buyers to have their vehicles inspected and diagnosed by Nissan trained technicians and all replacement parts, no matter how big they are, are sourced from Nissan-authorized sources and replaced no questions asked.
It gives our customers the peace of mind to know that even if repairs take over three days, it is assured to be no charge and they even get a courtesy vehicle replacement so that their lives are never disrupted in any way.
Let me cite a recent example. We've been receiving inquiries from owners of the Japanese domestic version of X-Trail about a recurrent issue. This is a perfect demonstration of what AMW has been saying from the outset: the Japanese domestic vehicles aren't the best suited for Sri Lankan conditions. The consequence of buying the Japanese domestic vehicles is unnecessary, avoidable repair costs for the owners. These are not value adds that smaller car sales dealing in Japanese domestic versions of Nissan can simply offer. They don't enjoy the long and fruitful relationship that AMW has with Nissan Motor Company Japan. They are not evaluated on an annual basis by Nissan to ensure that service standards meet the manufacturer's exacting standards.