---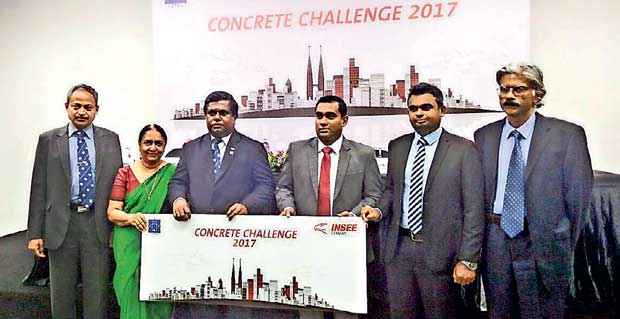 From left: Ceylon Electricity Board Project Director, IESL Vice President Dr. Kamal Laksiri, University of Moratuwa Department of Civil Engineering Senior Lecturer, IESL President Elect Prof. Niranjanie Ratnayake, Ceylon Electricity Board DGM, IESL President Jayavilal Meegoda, Insee Cement Commercial Director Janaka Weerakoon, Head of Industrial Sales Sanka Seneviratne and University of Moratuwa Department of Civil Engineering Senior Lecturer Prof. Anura Nanayakkara at the launch event

To champion its vision of building brighter futures, Insee cement partneredwith the Institution of Engineers Sri Lanka (IESL) to launch the INSEE-IESL Concrete Challenge 2017.
The competition powered by Insee Cement for the fourth consecutive year will see final year civil engineering students of Moratuwa, Peradeniya, Ruhuna, Jaffna, South Eastern Universities and the Open University battle head on, creating innovative concrete mix designs. Three five-member teams from each university will be chosen by internal competitions conducted by the IESL Chapters, and will be eligible to participate in the final competition.
Insee Cement is behind Sri Lanka's leading retail cement products, Insee Sanstha and Insee Mahaweli Marine, producing a much higher strength compared to any other cement available in the local market. The cement type that will be used for this year's competition will be Insee Extra, a fly ash blended cement that improves the durability and workability of concrete, leading to a significant cost and carbon emissionreduction in large-scale constructions. The competition will last for a total of three months, with the grand finale on 12 October 2017. The winners will be announced at the Techno Sri Lanka 2017 exhibition, the flagship event of the IESL, and the largest and only engineering and technology exhibition held in Sri Lanka.
An innovation-led organization, Insee Cement invests heavily in addressing today's demanding challenges of the construction industry through continuous research into solution-basedcement products and mixes. The company also plays a vital role in furthering innovation-related educational facilities availablein Sri Lanka, and has signed milestone partnerships with engineering faculties of leading local universities, to advance the country's construction industry. These game changingpartnerships have resulted in product development through sponsorships and funding of state-of-the-art research.
Insee Cement Commercial Director Janaka Weerakoon commented "Not only are we looking at imparting knowledge through this competition, we are also encouraging the future generation to invest in specialized areas in the construction industry such as concrete mix design, and collaborate with us as we challenge convention through research and innovation. We are delighted to partner with IESL in this endeavour, to promote internationally regulated standards and practices through this competition."
IESL, the apex body for professional engineers in Sri Lanka will ensure independent reviews and result assessments of the teams throughout the competition. "As the apex professional body for engineers in Sri Lanka, it is the duty of IESL to ensure that both professional practice and engineering education in the country upholds the benchmark standards on par with our international counterparts," stated IESLPresident JayavilalMeegoda."Competitions such as the Insee-IESL Concrete Challenge encourage Sri Lankan engineering undergraduates to focus on research and innovation, an imperative requirement for the evolution of engineering in the country. We are excited to partner with Sri Lanka's leading cement manufacturer Insee on this game-changing mission" he added.
The winning team will visit the Insee Cement Headquarters in Thailand and the Insee Cement plant in Saraburi, the largest cement manufacturing facility in the world, on a spectacular three-nighteducational visit tothe country.
The first runners-up will win a one-night stay at Hotel RIU, Ahungalla with the second runners-up awarded a one-night stay at Hotel Chaaya Tranz, Hikkaduwa. All three winning teams will receive an endorsement from Insee Cement and affirmed
industry recognition.