---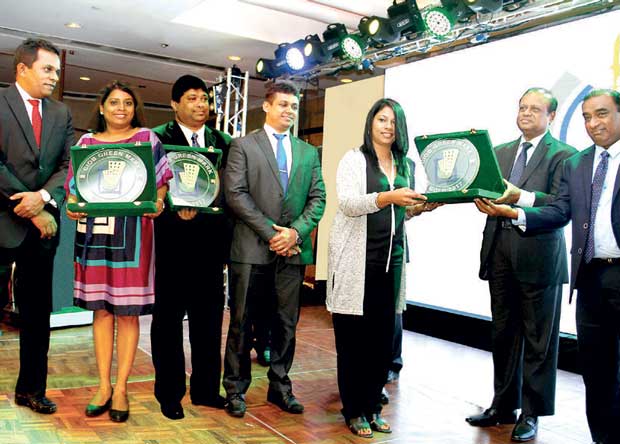 Science, Technology and Research Minister A.D. Susil Premajayantha and Ceylon Institute of Builders President Dr. Rohan Karunaratne (Right Corner) handing over the Gold Award to Insee Cement Sustainable Development and Communications Director Farzana Khan. Also in the picture (Left to Right) are Insee Cement Marketing Head Dinuk Peiris, Insee Cement Brands and Communications Marketing Manager Gayani Perera, Insee Cement Technical Support and Business Development Manager Sampath Wijesekera and Insee Cement Systems Compliance Manager Supun N. Jayasinghe at the presentation of the Green Mark Certifications held recently at Hotel Ramada
Insee Cement, Sri Lanka's premier cement manufacturer won the Gold Award from the Ceylon Institute of Builders (CIOB) at the presentation of the Green Mark Certifications held recently at Hotel Ramada.

The awards ceremony was part of the prestigious World Construction Symposium held for the sixth consecutive year. The event was graced by Sri Lanka Science, Technology and Research Minister Susil Premajayantha, the chief guest of the event, the CIOB officials, corporate entities and environmental enthusiasts.

The Green Mark Certifications were presented by CIOB, to participants in the construction industry to encourage and motivate energy efficiency. The recognition promotes water and resource efficiency, health and pollution control and quality systems for managing environmental performance. Technical performance and product innovation were also recognized at the event.

Commenting on the award recognition, Insee Cement CEO Nandana Ekanayake said, "We are honoured to have received the Gold Award, recognising our environmental initiatives and best practices. We are truly committed in preserving the bio diversity, particularly in areas where we do business such as Puttalam and Galle. Furthermore, we endorse and encourage the nation towards green building and sustainable construction for the well-being of all our people."

The recognition, endorsed by the Construction and Housing Ministry and Mahaweli Development and Environment Ministry, is intended to drive the industry towards constructing more eco-friendly buildings and raise awareness among developers, designers and builders of the vital need to conserve the environment from start to finish when conceptualizing a building project. Insee Cement won the gold award for adopting environmental best practices across a range of products such as, Insee Extra, Insee Mahaweli Marine Plus and Insee Rapid Flow Plus.

Further, Insee Cement's flagship brand Sanstha Cement, was the first cement product in the country to receive the green labeling certification from the Green Building Council, Sri Lanka. The product is produced with 7 kilograms less CO2 emissions per bag, demonstrating Insee Cement's commitment towards minimizing the environmental impact from the building industry.