---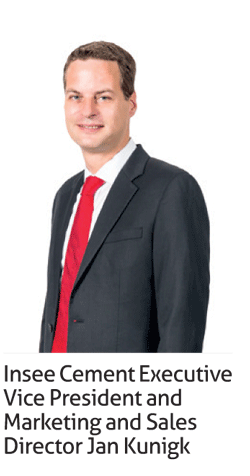 One in three houses in Sri Lanka has been built with freshly manufactured Insee Cement and the company has launched an exciting lucky draw for its customers who purchase the popular Sanstha Cement.

The unique competition titled 'Jumbo's weight of cement' (Athek barata cementhi) offers outstanding prizes in a daily lucky draw for those who purchase 10 bags of Sanstha Cement.

The offer is open to home builders, sales agents and masons. Those who win the daily draw will receive Insee Sanstha cement worth Rs.50,000 and the lucky grand-prizewinner will receive Insee Sanstha Cement worth one million Rupees- in other words an elephant's weight of cement. Altogether 45 contestants stand a chance of winning the daily draw.

Insee Cement Executive Vice President and Marketing and Sales Director Jan Kunigk stated: "People from lower and middle income families of the individual house builders segment of the consumer segment often find it financially difficult to embark on constructing a home or any other building. With a purpose to ease this burden, we launched a very unique campaign titled 'Athek Barata Cementhi'. It rewards our loyal customers. Everyday there is a winner and the competition is on. The grand winner will get cement to the value of one million Rupees while the daily winners will get cement to the value of Rs.50,000. It is a great chance to win high quality Insee Cement made to SLS and British standards."

Those who wish to participate in this unique competition are required to register themselves when they purchase 10 bags of cement by giving a missed call to 0770773322. The closing date for this competition is December 15th, 2017.