---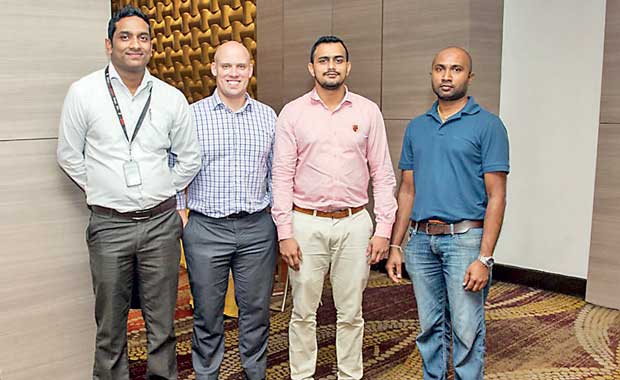 From left: Dayal Kithsiri from 3M Sri Lanka, Matt Ragole from 3M Singapore, Bashry Hilmy from Innosolve Lanka and Sanka Colombage from Carepoint
3M DI-NOC is a designer's and architect's dream, enabling them to create and renovate with the minimum disruption to workflow together with cost and time efficiencies. Creative minds now have access to a wide range of surface finishes that faithfully replicate the appearance of natural materials.

Sold and installed by Innosolve Lanka, the DI-NOC Architectural Finishes from 3M can be used to refurbish virtually any worn or outdated surface without the need for full replacement of the original constructions. In addition to wall surfaces, the films can be applied to furniture, including table tops and doors, as well as columns, ceilings, partitions and moulded surfaces.

Cinnamon Grand's Ballroom was refurbished with 3M DI-NOC luxury wood tones, which have given the ballroom a new life that compliments the overall ambience of the hotel.

Udhaya Kumar of Cinnamon Grand said, "We were looking at a complete renovation of our ballroom but were not in a position to shut it down as we have reservations for it till 2019. Innosolve Lanka presented to us the 3M DI-NOC solutions and initially we were a little hesitant of the product, as we had not seen or heard of it. But when the team from Innosolve did a sample check, we were really certain this would be the best option for us as it was convenient; it allowed us to be functional throughout the renovation process. It gave us wide options of wall fittings that were limitless and it was cost-effective."

Kumar further added, "We really did not stop service even during our busiest periods. The 3M Innosolve team adapted to our working patterns as a function venue. I believe this was a perfect solution for our need, which was to be functional during the period."

"The advantage of 3M DI-NOC Architectural Finishes is that it is quick to install to any surface and is a cheaper option for both new buildings and refurbishment projects. The product is made in Japan and has the guarantee of 3M, which is a well-established and reputed brand. We feel that this product will revolutionize design in Sri Lanka with an extensive range of indoor and outdoor finishing products," said Innosolve Lanka General Manager Bashry Hilmy.

Available in over 900 distinctive and visually stunning finishes, as diverse as wood and wood tones, metal, marble, stone, leather, carbon fibre-effect and stucco, 3M DI-NOC offers a number of key benefits in the application. In addition to radically reducing the costs and completion times, the films can be applied to both flat and complex convex/concave surfaces, easily repaired and removed to meet any future changes in design requirements.

The films are also highly durable and have an effective lifespan of up to 12 years. They are also resistant to the ingress of water and dirt, the effects of impact wear and abrasion and meet the latest IMO flammability requirements. In most cases, the films also carry a Class O + 1 fire rating and require no harsh chemical cleaning agents to maintain their original pristine condition.