---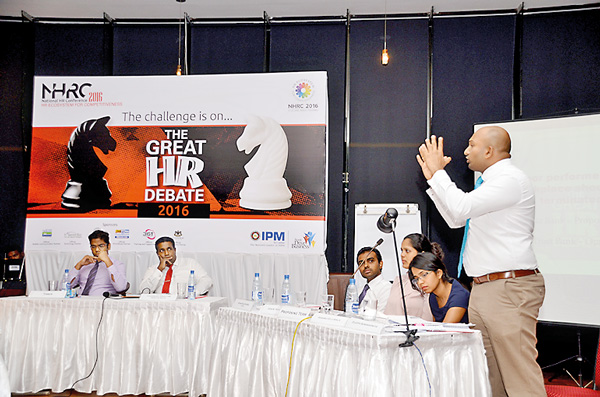 IPM Sri Lanka – the nation's leader in human resources management – inaugurated its popular HR debating championship for the private and public sector 'The Great HR Debate 2016' on May 18 with the qualifying round between Pan Asia Bank PLC and Nations Trust Bank PLC.

The qualifying round based on the topic 'Poor performers at the workplace should be terminated' was won by the proposing Pan Asia Bank team.

The Great HR Debate is the only debating championship in Sri Lanka dedicated to the Sri Lankan HR fraternity and is an event eagerly awaited each year since its inception in 2011. The debates are judged by a panel of experienced HR professionals and academics. The panel of judges for the qualifying round comprised of Prof. Gamini De Alwis, Ajith R. De Costa and Nilanthi Jayathilake.
"The primary aim of the Great HR Debate is to create a mechanism to debate on issues which are important to the country's HR ecosystem and to nurture and build an intellectually sound HR community that is capable of creating value within the HR landscape," said IPM Sri Lanka President Rohitha Amarapala.

"In an era where Sri Lankan firms and companies have to compete on a regional and global scale to establish our footprint, it is important to establish a vibrant HR ecosystem in which localized strategies for human capital based advantages can be rolled out. The Great HR Debate assumes the role of a significant link to sustain the HR ecosystem which enables such thought processes to take place," he added.

The Great HR Debate 2016 will consist of two more rounds followed by the semi-final. The grand finale will be held alongside National Human Resources Conference (NHRC) 2016 on its opening day on June 21 at the Bandaranaike Memorial International Conference Hall (BMICH) in Colombo. The other participants in the Great HR Debate 2016 Debating Championship will be Citizens Development Business Finance PLC, Associated Motorways PLC, GlaxoSmithkline Beecham (Pvt.) Ltd, Bank of Ceylon, MIDAS Safety, Melsta Regal Finance (Pvt.) Ltd and MAS Bodyline.

"We are expecting an interesting and informative series of debates between some of the most reputed and leading companies in Sri Lanka that would bring to light many thought-provoking and stimulating arguments for the betterment of the HR discipline in Sri Lanka. As such, we would like to invite HR professionals as well as professionals from other disciplines to witness this exciting line-up of debates," said The Great HR Debate 2016 Project Chairman Himal Perera.

The winners of the Great HR Debate 2016 Debating Championship will be awarded the prestigious 'The Great HR Debate 2016' trophy and certificates at the National HR Conference 2016 proceedings. All participants will be presented with certificates of participation.