---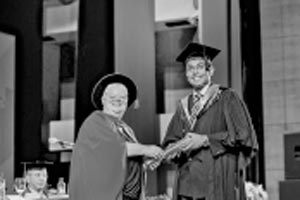 Informatics Institute of Technology (IIT), the pioneer in providing globally renowned British higher education in Sri Lanka since 1990, is offering a unique opportunity for its undergraduate students to gain invaluable professional exposure at multinational and local blue-chip companies.

As part of the University of Westminster undergraduate degree, IIT students following BEng(Hons) Software Engineering, BSc(Hons) Business Information Systems, BSc(Hons) Computer Science (specializing in mobile and web computing; games and computer graphics development; or multimedia computing disciplines) and the BA(Hons) Business Management programmes will be provided a one year industrial placement (internship) at renowned organizations.

One of the biggest dilemmas faced by the educated youth currently is the issue of receiving suitable employment following graduation. Sri Lanka has been grappling with the problem of unemployed graduates for decades. With the objective of ensuring employability and high demand for their graduates, IIT is providing exclusive internship opportunities.

The senior panel of academics at IIT says that the institute focuses on striking a balance between academic teaching and real world practical teachings. The industrial placements is an important component of the degree programmes offered at IIT as it will provide vital industrial exposure, help students inculcate the right attitude towards work and will provide an opportunity to focus on specific specialized areas.

IIT Dean Naomi Krishnarajah said that the industrial placement enables the student to understand the corporate environment and realistic preview of the world of work, learn new skills and apply what was taught during the course.

She added that the internship at prestigious organizations help groom students to make informed choices during the final year of their degree programme. "The exposure also enriches the students experience in making career path decisions after graduation and mesh into the corporate world with ease," Krishnarajah said.

"The educational foundation laid at IIT and co-curricular activities it offers, helps students to discover their potential. IIT also provides an environment for students to develop creative, entrepreneurial and leadership skills. The internship is also a valued entity that contributes towards the professional growth of the student. Finally it is the student who ventures into the real world and proves their potential," Krishnarajah said.

"This internship is undertaken during the third year of the degree programme and provides students with an invaluable opportunity to gain practical competencies and skills to complement the knowledge gained. Job experience, networking, academic insight and professional understanding are just some of the many benefits that an internship can provide. Students are placed in prestigious organizations in and around Colombo. Those who have undergone this internship have found that it has added great value to their degree programme as it has given them the practical experience they need to underpin their theoretical learning and also exposes them to the industry, giving them first-hand experience in a real work environment. All students are encourage to follow the one-year internship programme as it is invaluable in giving them a head start in pursuing their chosen career path, following graduation from IIT," IIT Senior Lecturer/Course Leader Shyani Siriwardene said.
Caption:
1: The IIT Campus
2:
3/4: Industry interviews at IIT Careers Day