---
Home Lands Skyline (Pvt) Ltd, a fully owned subsidiary of Home Lands Holding, a premier Real Estate Company in Sri Lanka unveiled its plans to convert the property known as 'Treasure House' situated at Cotta Road, Borella in the heart of Colombo, into a 77-unit Apartment Complex consisting of 15 floors.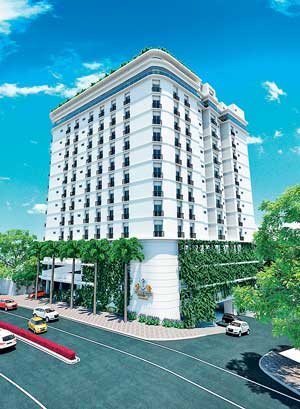 The Complex will be known as 'Treasure Trove Residencies". Home Lands Skyline is set to complete the project in November 2018 and with the total investment of Rs. 1.7 billion.
Treasure Trove Residencies will be located in the city center, within the vicinity of every luxury of urban life.The architecture of the apartments will have regal touches of colonial and Victorian flair differentiating it from the rest of the apartment buildings in Colombo.
'Life at the Center,' the core concept through which this project is marketed is inspired by key propositions. The primary is its central location that offers the convenience of having in its close proximity educational institutions, hospitals, shopping complexes, places of entertainment, social clubs, restaurants, major highways, and even bird sanctuaries and parks. It is said to be the ideal location for the movers and shakers, the affluent and influential social class of Colombo. Furthermore, property developers claim that there has been no compromise on luxury and style in the case of design and finishes of
the apartments.
Nalin Herath, Chairman of Home Lands Skyline further elaborated on the concept of the Apartment Complex, stating that "Treasure Trove Residencies" is ideally suited for successful men and women who wish to be at the hub of activity and demand the very best of comfort and luxury.
The reason why the property developer decided to adopt a colonial and Victorian design rather than a modern outlook to the project is to retain the heritage of its location – "Treasure House". "Living up to its name 'Treasure Trove,' every apartment will exude a touch of a royal elegance, luxury and comfort," the Chairman of Home Lands Skyline stated.
The complex would consist of seven apartment categories (studio, two/three/four bedroom apartment penthouses and duplexes all with maid's room). Every apartment will also have a designated parking slot within the complex. All houses come with modern pantry units. The bathrooms will be built using the best brands of sanitary fittings and with hot water facility. The premium floors (13th, 14thand the roof top) will consist of 11 super luxury apartments.