---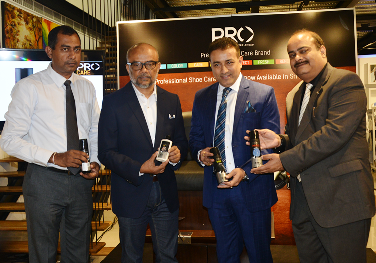 Hameedia, Sri Lanka's leading menswear specialist recently introduced the PRO premium shoe care range throughout its retail network in Sri Lanka. Developed by leading manufacturer and exporter M.V. Shoe Care, the PRO range of products offers customers easy-to-use, high quality cleaning and shine solutions that enable them to step out in style on every occasion.
PRO is a cutting-edge shoe care brand that is attracting a loyal customer base and strong retail presence across the South Asian region. In India, the PRO shoe care range is available in over 1200 outlets including leading footwear retailers and fashion stores. Hameedia is the first Sri Lankan company to bring PRO to Sri Lanka, as part of its ongoing effort to strengthen and complement its product portfolio and offer customersthe very best solutions in shoe care.
Commenting on the PRO range, Fouzul Hameed, Managing Director – Hameedia stated: "We are delighted to offer our valued customers access to this new, world-class range of shoe care products. Shoes are a quintessential part of any outfit and they help you to make a strong fashion statement. If your shoes are in a poor condition or look dull due to wear and tear, it can literally diminish the effect and overall finish of your entire outfit. If you invest in important staples such as leather shoes or sandals, it's important that you maintain them, so that they look their very best at all times. The PRO range of shoe care products is extremely easy to use and will enable you to keep your leather footwear in excellent condition."
Also commenting on the range being introduced to the Sri Lankan market, Ketan Vyas, Founder and Managing Director - M. V. Shoe Care said: "We are excited to partner with the Hameedia Group, and have been impressed with their professionalism as well as their strong sales network and distribution capabilities. This range of new products and services will change the way that consumers take care of their shoes and leather goods. Hameedia has the reputation, the reach and the commitment that is needed to deliver in this market – together we will make a very positive impact on the provision of high quality shoe and leather care products throughout Sri Lanka."
Lokesh Chopra, Head of Sales - M. V. Shoe Care added: "Sri Lanka is an important market for us as it is experiencing fast growth in the retail sector. We are extremely happy to partner with the Hameedia Group, which is known for setting luxury retail standards. We believe that the addition of the PRO products and accessories to the Hameedia portfolio, will provide discerning Sri Lankan consumers with the care and cleaning solutions that they need to ensure the durability of their footwear. I am also impressed with the technical competency and enthusiasm of the Hameedia team, who deliver top notch products, as well as exceptional support services to all customers. This is a great partnership, that will enable us to take our brand PRO to the next level."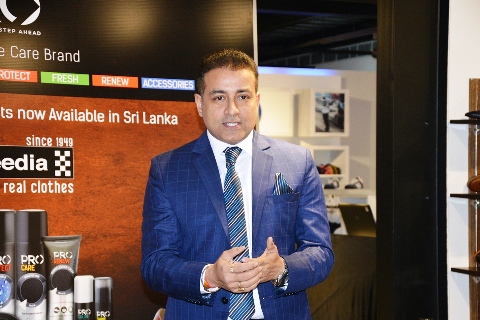 The PRO shoe care range of products offers eight focused categories for shoe and leather care called Clean, Care, Colour, Shine, Renew, Fresh, Protect and Accessories. Customers can consult Hameedia's Grooming Specialists to find out more about which shoe care products should be used on different types of footwear.
At present, PRO leads the premium shoe care market in India and its range of solutions in known to enhance the appearance of shoes and improve their functionality to create lasting value. The PRO range is developed using the very best raw materials and through collaborations with top formulation agencies and laboratories that are based in Europe. Developed using innovative technologies and industry-best quality standards as well as global production protocols, the PRO range offers world-class shoe care solutions, that can easily be used by customers to maintain their footwear and make every pair of shoes in their wardrobeshine and look clean, chic and stylish.
Hameedia is the exclusive distributor of PRO shoe care products in Sri Lanka and a selection of other productscan be found at The Envoy Mansion and other Hameedia outlets island-wide.
Hameedia was established in 1949 and has grown to become a fashionable brand in Sri Lanka. Renowned for their high quality custom tailoring under the Bespoke and made to measure categories and ready-made clothes for gentlemen, the Hameedia multi-brand retail stores house a collection of quality menswear brands Le Bond, Envoy, Signature, Raymond, Lee and Adidas to name a few.
Hameedia also prides itself on offering exceptional standards of service to ensure that clients enjoy a positive and personalized experience at each store. With a network of over 30 outlets across Sri Lanka and a large and experienced team, Hameedia has a strong local presence and has also expanded globally with outlets in the Maldives and Australia.