---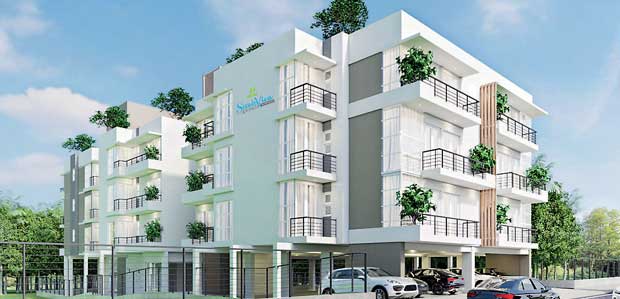 One of the topmost construction companies in Sri Lanka, Global Housing and Real Estate (Pvt.) Ltd has commenced the construction of its newest luxury housing project in Battaramulla.

Named 'Aurora Residencies', the modern housing complex consists of all luxurious facilities and amenities required by a modern dwelling. Aurora Residencies provides the opportunity to anyone who has been dreaming to be the proud owner of a super luxury residence to own a modern apartment in the centre of Battaramulla, says Global Housing and Real Estate (Pvt.) Ltd. 'Aurora Residencies' is the 14th housing project of Housing and Real Estate (Pvt.) Ltd, which has won the hearts and minds and trust of customers in the construction industry over the past 14 years.

The seven storey project is constructed in tranquil serene landscape of high commercial value in Battaramulla town, bordering Kalapaluwawa and the Thalangama Police Station. Aurora Residencies is situated in the rapidly developing commercial town with all amenities in close proximity of the Sri Jayewardene Hospital, Diyatha Uyana and with easy and quick access to many major government offices, schools, hospitals and supermarkets.

Aurora Residencies thus will comprise 72 luxury apartments with all facilities with the choice of two to three roomed apartments built on a area of more than 1,029 square-feet. The customer has also been given the option to select among several architectural models according to the whims and fancies of the individual. The two roomed apartments are priced from Rs.14.3 million and three roomed apartments from Rs.15.9 million upwards.

Aurora Residencies is thus being constructed under the planning and supervision of a group of experienced architects who a very well familiar with the taste and choice of the modern customer. The specialty of the project is that only very high quality fittings and material are being used in construction.

Aurora Residencies will consist of a fully equipped gym, family swimming pool, mini super market and salon for the convenience of its residents.