---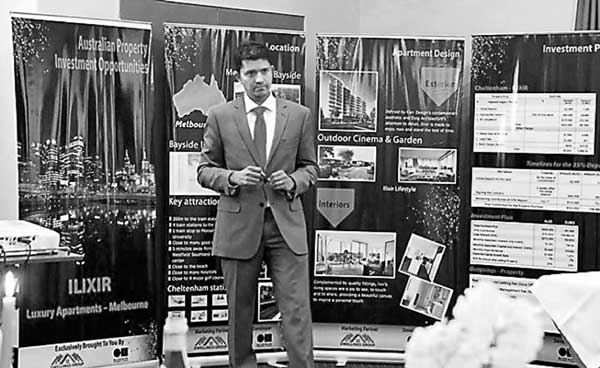 Dwellings Group, the specialists for global property marketing and investments including technical consultancy and strategic investment advice, has expanded its international marketing arm to Frankfurt, Germany.

Dwellings Group, in its push to take property investment and management to new heights in the international arena, tapped into the European market through the Diplomatic Council in Europe.

The Diplomatic Council is a prestigious global civic organisation and think tank, which was created to bridge the gap between diplomats and business leaders. The Founder and President of the Diplomatic Council is the former Sri Lankan Ambassador Buddhi Athauda, who envisioned the need for a global, networking, advocacy and lobbying platform for investment promotion and expansion around the world. The Diplomatic Council headquartered in Germany, was given the UN observer/Consultative last year (the highest ranking any civic organisation can reach at the
UN system).

With the launch of the Diplomatic Council Mission in Australia, Dwellings Group Managing Director Navin De Silva was appointed as Head of Mission in Australia. "It is an honour to be part of the global Diplomatic Council family and to lead the Mission in Australia. It is my aspiration to take the DC Australian Mission to greater heights, just like what all of you have done in Europe," said Navin on his speech to an exclusive gathering of 250 European business leaders in Frankfurt.

Dwellings Group was the main sponsor of Diplomatic Council Summer Celebrations 2016, which was held recently in Frankfurt, Germany. Followed by the Summer Celebrations, they hosted an Australian dinner along with a project presentation of Australian properties for 25 top investors
in Germany.

"By launching our office in Frankfurt, we have expanded our global footprint to another vibrant market and this is a great testimony to our success and growth," explained Dwellings Co-Director Sanjika Abeyratne
"By reason of our continuing growth and the rising demand for properties by international investors, we have now strengthened our team in our office in Germany," explained Dwellings Co-Director Sanjika Abeyratne. He added, "We are delighted to have gained access to such markets."

Dwellings Group and My Property were founded by three Sri Lankan entrepreneurs: Navin De Silva, Sanjika Abeyratna and Theekshana Somarathne, who have spearheaded the organisation up to its present status. Dwellings Group focuses primarily on acquiring, managing and maximizing value of Australian properties, with special emphasis on Melbourne commercial and residential properties. Being a diversified company, Dwellings Group is already into IT outsourcing, property management, and high-end women's fashion.

My Property (Pvt.) Ltd concentrates on marketing Sri Lankan development projects both locally and to overseas investors and expats in the UAE, the UK, the US, Australia and Europe.