---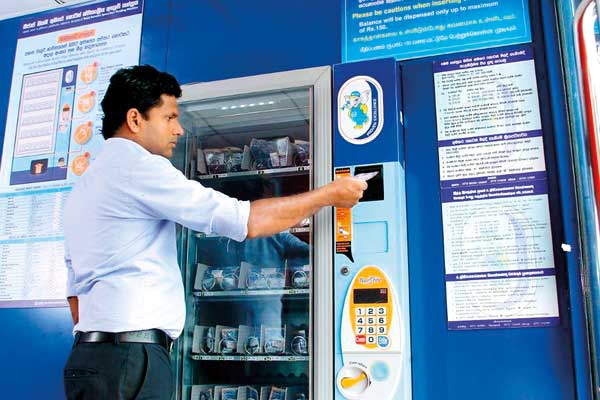 As a company which has scored many a first in Sri Lanka's automotive industry, David Pieris Motor Company Limited (DPMC) recently introduced a spare parts vending machine, another first in the country.

As a long-time proponent of superior after sales service, DPMC has brought together speed and convenience by introducing a vending machine for genuine spare parts. Three-wheelers and motorcycles require different types of cables, bulbs, etc that can be replaced by the user. Time is money. DPMC realized that ensuring availability of spare parts around the clock would make a significant difference to the customers.

Speaking about their latest venture, Deputy General Manager of Parts & Accessories division Laksiri Kumarasinghe says "As the authorized distributor of Bajaj motorcycles and three-wheelers in Sri Lanka, we have an obligation to our customers to provide genuine spare parts for their vehicles".

Further emphasizing on this, Kumarasinghe explains "Genuine spare parts are sourced from the vehicle manufacturer. They are produced to the highest standards using high quality raw materials and advanced technology, conforming to the exact specifications of the vehicle and under manufacturer's supervision. They ensure better performance and longevity of the vehicle".

The first vending machine has been installed at DPMC's spare parts outlet in Maligawatta, the hub of the spare parts industry, offering customers 24/7 accessibility. The company aims to further develop the machine and install them island wide, at its regional offices, dealers and at gas stations that are open 24 hours. Kumarasinghe also said that in the future they intend to enable payments using credit cards and mobile phones, making it even more convenient for their customers.