---
Chaminda Wanigaratne has rejoined IDEAL Motors (Pvt) Ltd in his new role as Director –Automotive.
Having previously served IDEAL Motors since 2010, soon after the Company commenced the Mahindra & Mahindra operations in Sri Lanka, Wanigaratne was their General Manager – After Market.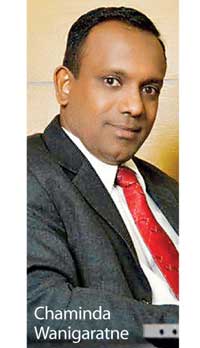 During this period, he played a pivotal role in setting up a sustainable after-sales business module for the Company. He was also instrumental in initiating new technology diffusion on Common Rail Diesel Technology (CRDe) in the rural sector, as well as spearheading the diffusion of 'Mechatronics' principles, combining electronics and mechanical engineering,in collaboration with the Automobile Association (AA) of Ceylon.
Having commenced his career as a Design Engineer at Ruhuna 2001 Consultancy Company, he later joined the Southern Development Authority of Sri Lanka under the Ministry of Finance in 1998 as Sector Manager – Industries and Technical Training. He entered the automotive industry in 2004 as Assistant General Manager – Spare Parts and Accessories at TVS Lanka (Pvt) Ltd, a subsidiary of United Motors Lanka Ltd.
Prior to his return to IDEAL Motors, Chaminda served as General Manager – Group After-Sales, at Associated Motorways (Pvt) Ltd (AMW), a fully owned subsidiary of Al FuttaimGroup, UAE. He was successful in setting up the Group After-Sales function of the Company, handling sevenleading automobile brands.
An acknowledged expert in the latest automobile technologies in Diesel and Gasoline, Chaminda has been trained in India, Japan, Dubai and the Philippines. He has carried out successful research in 'Influence of Vocational Education System in Sri Lanka on International Technology Transfer in Automobiles' in 2015 and presented papers at several technology forums in Sri Lanka. He has also served as a Steering Committee member forTertiary and Vocational Education Commission (TVEC) as a sector specialist in Automobiles.
"Chaminda's expertise in mechanical engineering, as well as his proven managerial capability,are in perfect alignment with the course of action we have charted for the future of IDEAL Motors, especially in automotive assembly. While driving the company forward, this strategic initiative could go a long way in placing Sri Lanka on the world's automotive industry map, in addition to saving valuable foreign exchange,' said NalinWelgama, Chairman of IDEAL Motors (Pvt) Ltd.
The Ideal Group is privately held professionally managed entity that has its beginnings in England as far as 1986, where its founder began a company named Ideal Plant and & machinery.