---
The 'Rural Economic Empowerment Programme', a joint effort between Citi Bank, Ceylon Chamber of Commerce and NDB Bank, aimed at nurturing prospective rural entrepreneurs, recently conducted a technical training programme for cinnamon growers in Dadayamkanda village in Embiliptiya, in the district of Ratnapura.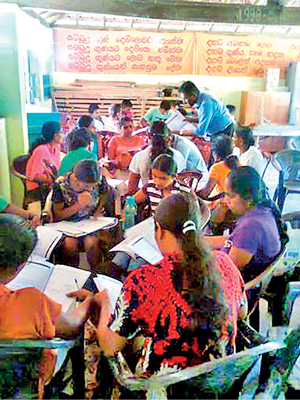 This programme focused on introducing productivity-based technical training for the cinnamon growers in and around the Dadayamkanda village. The training was conducted by resource persons from the Ratnapura District Office of the Export Agriculture Department. The programme used a participatory approach to encourage the exchange of ideas and sharing of experiences of the cinnamon growers, majority of whom have been engaged in the trade for more than 15 years.
Further, the training focused on two main themes: productivity improvement of cinnamon cultivation and motivating the existing farmers to become entrepreneurs. During the programme, farmers were given field demonstrations, awareness on good cultivation practices and yield management techniques.
It was evident that the 34 cinnamon growers, who took part in the training programme are not adopting good cultivation practices, thus dropping yield levels to just 150 – 200 kilogrammes of cinnamon per year, while the efficient growers in the Southern Province are reaching a productivity level of 600 kilogrammes per year.
The training programme was designed and conducted following a needs assessment survey conducted with the farmers. The participants highly appreciated the knowledge and experience gained through the training programme and expressed their interest in making use of the new cultivation practices to improve the productivity of their cultivation.