---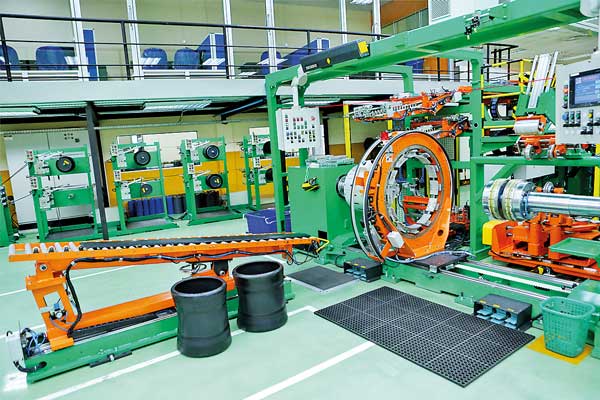 A section of CEAT's hi-tech radial tyre manufacturing plant in Kelaniya
CEAT Sri Lanka has announced it will invest Rs.800 million over the next 12 months to substantially expand its radial tyre manufacturing capacity in the country to supply growing local and export demand.

The company, which currently has a 30 percent share of the radial tyre market and supplies nearly half of Sri Lanka's overall requirement of pneumatic tyres, said the investment would increase radial tyre production by 75 percent, from 40,000 tyres a month to 70,000.

The decision to expand capacity comes exactly two years after CEAT Sri Lanka commissioned a Rs.600 million state-of-the-art radial tyre manufacturing plant at the company's Kelaniya complex to produce high-performance tyres for cars and sports utility vehicles (SUVs).

"Our new investment entails a virtual replication of the plant we opened in July 2014, with new hi-tech machines," CEAT Sri Lanka Managing Director Vijay Gambhire said.

"This bold decision to almost double production reflects our commitment to Sri Lanka and our confidence in the potential of our tyres to compete with global brands in the domestic and export markets. With this investment, CEAT Sri Lanka's total investment will rise to Rs.3.8 billion."

He said the new machines to be installed would produce 13 sizes of radial tyres, increasing production of several existing sizes as well as adding new sizes to the company's radial tyre portfolio, which already comprises of 33 sizes -- 20 for cars, eight for vans and five for SUVs.

"The increase in production capacity and the introduction of new sizes will significantly strengthen the CEAT brand's position as the highest-selling radial tyre in the local market, and give us the potential to double our market share in the segment," CEAT Sri Lanka Vice President Sales, Marketing amd Exports Ravi Dadlani added.

New technology acquisitions such as the latest Bead apexing machines, cap strip machines, improved tyre building machines and curing presses introduced in the radial plant commissioned two years ago, will also be installed in the expanded plant, he disclosed. Similarly, the expansion would encompass the use of segmented moulds instead of two-piece moulds for the manufacture high-quality block-pattern radial tyres for high-end SUVs and off-road vehicles.

Among the 13 CEAT radial tyre sizes to be manufactured when the latest phase of expansion is complete are 31x10.5 R 15 All-Terrain tyres, 265/70R16 H/T, 205/75R 14 H/T and 205/75R15 H/Ttyres under CEAT's Czar brand and two export sizes -- 215/70 R 15 C and 225/70 R 15 C.

About a third of CEAT Sri Lanka's current tyre production is exported to 15 countries in South Asia, the Middle East, Africa and the Far East.

CEAT Sri Lanka's manufacturing operations encompass the radial, commercial, motorcycle, three-wheeler and agricultural machinery segments.

The brand accounts for market shares of 30 percent in the radial segment, 51 percent in the truck/light truck category, 54 percent in the three-wheeler segment, 17 percent in the motorcycle segment and 72 percent in the agricultural tyre category.